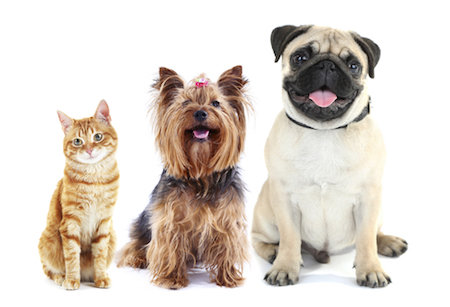 Story Series
News Feature
Imagine having to give up your family pet because you can't afford to keep it. 
Corinne Lawson, '16, is on a mission to prevent this from happening.
As president and treasurer of The Pet Pantry, a 501 (c)(3) tax-deductible charity, Lawson organizes the distribution of pet food and supplies to help keep local families and their pets together. 
"Financial and life stresses sometimes force families to surrender their animals. It's really heartbreaking. We work to help offset costs so people can stay with their animals for as long as possible," Lawson said. 
While at BSU studying psychology, the Easton native continued to operate her start-up pet sitting/dog walking business, an endeavor she began as a high school student. 
As an undergraduate, she also was employed at Brockton's Animal Protection Center of Southeastern Massachusetts. There, her paths crossed with the owner of The Pet Pantry, who informed her that the non-profit business was unfortunately closing. 
"At the time I was going to BSU full-time with the goal to become a mental health counselor," Lawson said.  
But after working with animals and their families, she found herself pulled in another direction. Lawson made the decision to take over The Pet Pantry in January 2018 and currently works as a veterinarian assistant at the Whitman VCA Animal Hospital. 
What she learned as a psychology major has come in handy in her new career. 
"Psychology is such an interesting subject. I loved all the (BSU) teachers I had," she said. "It helped prepare me for what I'm doing now because it encompasses so much about the human experience, compassion and helping people. It all ties into what I like to do."
Psychology professor Susan Todd taught and mentored Lawson.
"Corinne was the kind of student that keeps me, and faculty like me, returning to the classrooms day after day, year after year," Todd said. "I hope she continues to be the exemplary leader and professional that inspired me and so many others with whom she comes into contact."
Hoping to inspire even more, Lawson encourages members of the Bridgewater State community to contribute to the cause. 
"If you've ever been in a tough spot, it's easy to feel helpless. If there is something there to life you up, it makes life easier," Lawson said.
Pet foods of all kinds are accepted as donations and can be dropped off at one of six area sites, found on The Pet Pantry website. Online monetary donations can also be made through the site. Finally, volunteers are always welcome to help package and deliver donations. 
 "I want to continue to help people and their animals. Animals are just innocent creatures, our pets love us unconditionally," Lawson said. "Helping people, helping ourselves, and helping each other, that has become my mission in life."