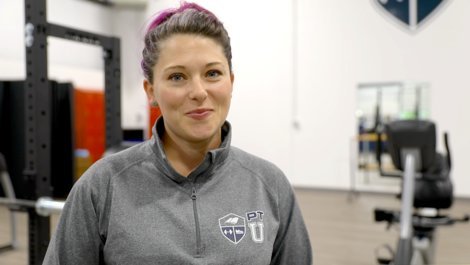 Story Series
News Feature
When it came time to find a home for her physical therapy center, Dr. Kelly Duggan, '06, knew exactly where to look.
"I wanted to stay in Bridgewater because it holds a piece of my heart," she said.
Not only is Dr. Duggan a proud Bear, her parents, Anne and Jim, both attended Bridgewater State. She also met her husband, Ian, when they were both BSU undergraduates.
With ties to the school and community, she was determined to launch Physical Therapy U (PTU) in Bridgewater. She opened her clinic in May 2016, and this summer the business moved to a larger facility at 75 Scotland Blvd.
Many of the PTU staff are former Bears, and Dr. Duggan often employs interns from the university; physical therapist Julie Cicalis oversees the internship program.
"Bridgewater interns have a strong work ethic, you don't have to light a fire under them, they jump right in," Dr. Duggan said.
Sarah Baptiste, '20, is studying physical education with a concentration in exercise science. She said at PTU she's getting a head start on her career.
"Working here allows me to get hands-on experience in the professional world and it's only going to help me in the future," she said.
To date, BSU Health and Fitness Center Manager Daniel Rezendes has recommended five students, including Sarah, for PTU internships.
"Kelly not only takes her role as a healthcare provider seriously, but also aims to make a difference in her community," he said. "Being a mentor and internship site for BSU students is just one example of her commitment to helping others and community-building."
Alumna Amanda Boudreau, '18, is employed as a recreation therapist at the Massachusetts Hospital School in Canton; she is a former PTU intern.
"I loved working with Kelly, she taught me a lot," Ms. Boudreau said. "She helps you grow personally. I was able to interact with patients and became more comfortable in the field."
For senior Courtney Blais, working as an intern at PTU has increased her confidence.
"I now have a better sense for what I will actually be doing. It has helped me prepare and be more familiar with things that might come up in grad school," she said.
Dr. Duggan knew starting up her own business would initially be challenging, but her instincts to open in Bridgewater has yielded positive results.
"It's been amazing. I was not prepared for the success and growth. The community and the support we've received has made this possible," she said. (Photos by Heather Harris Michonski, University News)