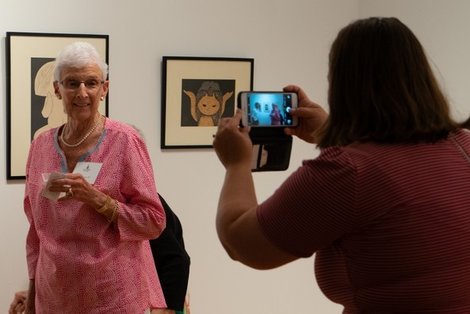 Bridgewater prepared me for life. I came as a very young, inexperienced, naïve girl. They taught us to believe in ourselves. We didn't have any fear.
Story Series
News Feature
Ellen Farren, '57, was only a few years out of college when she left familiar New England behind for the unknowns of teaching in Japan. But, she headed abroad with confidence thanks to her Bridgewater State education.
"Bridgewater prepared me for life. I came as a very young, inexperienced, naïve girl," recalled Farren, who grew up in Fall River and studied physical education. "They taught us to believe in ourselves. We didn't have any fear."
She was working in Connecticut when she saw an ad in The New York Times for a job teaching physical education in an English-speaking school in Japan. For an aspiring world traveler, it was an opportunity she couldn't pass up. In fact, her new employer offered to fly her to Japan, but Farren opted for a lengthy journey at sea so she could see more of the world.
Farren lived with a Japanese family and immersed herself in the culture. She mastered the cab system, despite wondering initially if she could even tell a driver where she lived. And, she developed an affinity for Japanese woodblock prints and started collecting them.
After three years in Japan, she came back to the United States and taught physical education for 26 years at Copiague Junior High School on New York's Long Island.
She never forgot her alma mater and recently returned to Bridgewater for the first time since graduating to donate more than two dozen of her prints to the university.
"We are so grateful for Ellen's decision because this collection will transform the access our students have to see world-class Japanese prints," said Dr. Brenda Molife, vice president for university advancement. "Our students won't have to travel to Boston or Providence or New York. They can simply walk around the corner."
BSU art experts praised the breadth of the collection, which features works from the 1950s to 1970s and is on display in the Anderson Art Gallery and Maxwell Library through Aug. 14.
"I feel that my pictures have a home now," Farren said at a celebration of the donation.
Several of Farren's classmates – some of whom she hadn't seen since college – attended the event. They toured campus, including Woodward Hall, where Farren lived as a student.
"I recognized it," she said. "There certainly has been a lot of improvements. The whole campus is wonderful."
She reflects fondly on her time at Bridgewater, including helping lead the physical education club. Perhaps most importantly, Bridgewater prepared her for a career where she could make a difference for children from around the world.
She encourages today's BSU Bears to "really pay attention to what they're doing. They're about to get a wonderful boost to their life. (They should) enjoy their days, work hard and be thankful they found Bridgewater."
Do you have a BSU story you'd like to share? Email stories@bridgew.edu.