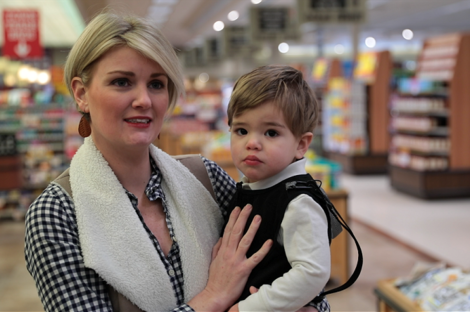 Story Series
News Feature
Did you know 66 children visit emergency rooms across the U.S. each day because of shopping cart injuries? Entrepreneur Kaitlyn Litchfield, '06, does, and she's making shopping with young children safer and less stressful.
 The Bridgewater State graduate developed a vest to keep infants and toddlers securely in shopping cart seats. The vest features straps that parents attach to the cart that keep their little Houdinis from falling out, a common cause of the 66 daily emergency room visits identified in a Nationwide Children's Hospital study.
Litchfield, a criminal justice major who worked in probation at Brockton District Court before discovering she wanted a different type of career, saw the need for the vest firsthand when son Camden almost fell out of a cart.
"I came home in tears and said to my husband 'We need to buy something,'" she recalled. "It didn't exist."
Litchfield thought she should take it upon herself to make something that would do the trick. When her other son, Nathan, (pictured at right wearing the vest with Litchfield) nearly toppled out of a shopping cart a few years later, Litchfield knew she had to design a product.
"If not now, then when?" she said. "There's always going to be a reason not to."
Things progressed quickly as she developed a concept and found local companies to assist with manufacturing and other aspects of her business, Lamb & Lou. Litchfield is now accepting pre-orders and plans to begin shipping vests in the spring.
"It still shocks me that I'm doing this," said Litchfield, who was selected as a South Shore Living magazine entrepreneur to watch, and also works as a photographer. 
It takes effort to bring a product to market, but that's nothing new for Litchfield. At Bridgewater, she learned the value of hard work by, ironically, sleeping in. Litchfield slept through the final exam in a geography class taught by Professor James Hayes-Bohanan. Instead of failing her, Dr. Hayes-Bohanan let her make up the exam because he knew she paid attention throughout the class.
"That changed my life," she said. "I realized it's not that you're the best or love a subject. If you show up and try, people will recognize that. People will see that in you and he recognized that."
Sleeping through a final is not good advice for BSU students, but Litchfield has other words of wisdom for entrepreneurial Bears: Don't be afraid to try something that might seem to be outside of your wheelhouse.
"Do it because you have nothing to lose," said Litchfield, who encourages entrepreneurial BSU students to ask her questions through her website. "It can be you." (Video and photo by Carl Hollant, '15)
Do you have a BSU story you'd like to share? Email stories@bridgew.edu.