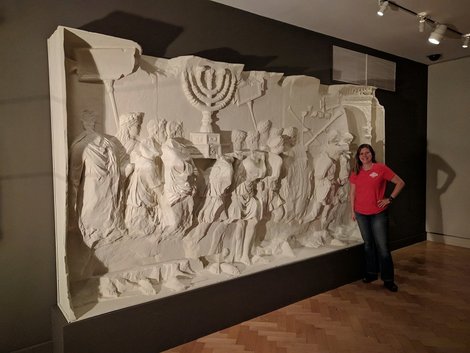 At Bridgewater I learned to look at something from every angle, that no two people look at an item the same way.
Story Series
News Feature
If you can't get to Rome, sculptor and graphic artist Lindsay Neathawk, '03, will bring Rome to you.
Her most recent creation is part of the decorative work on a replica of the Roman artifact the Arch of Titus for an exhibition in New York City.
Neathawk has come a long way since creating her first sculpture, a work best described as being half lion, half sphynx. Today she creates replicas of sculptures from around the world.
She fell in love with sculpture after taking art Professor Rob Lorenson's 3D sculpture class as an undergraduate.
"I remember he really let us create with a purpose and taught us how to create art in different mediums, not just using pen and paper or canvas and paint, but materials that are found all around you and in nature," she said.
The skills she learned at BSU transferred over into Neathawk Designs, the successful graphic design and custom sign shop that she runs with her husband, Ryan. The business is located in the Berkshires, where she grew up. 
Two years ago, Neathawk partnered with Learning Sites to recreate the spoils featured on a replica of the Arch of Titus for an exhibition housed at Yeshiva University. The original Arch of Titus was built circa 82 CE and is located on the Via Sacra in Rome. The panel Neathawk replicated depicts Titus' triumphant parade in the year 71, celebrating the destruction of the Jerusalem temple. 
Neathawk and members of her team, including Ryan and Learning Sites' Dr. Donald H. Sanders, used a combination of hand sculpting and 3D printing to create the piece. It is not to scale but stands at an impressive 12-feet tall, 6.5-feet wide and 1.5-feet deep and weighs in at almost 1,000 pounds.
Her career in sculpture all started in 2010, after she invested in a numerical control machine, which uses a computer to automate the functioning of drills, lathes and boring tools in order to alter a blank piece of metal, wood, ceramic, composite or plastic according to a programmed design or set of instructions. This allowed Neathawk to launch a sign-making business out of her Williamstown garage, where she began designing personal, commercial and metal signs.
Word spread of her one-of-a-kind 3D signs, and in 2012 Sanders, who was working with Harvard University's Semitic Museum on a recreation of a ceramic lion that was destroyed 3,000 years ago in the city of Nuzi, reached out to Neathawk.
He invited her to collaborate and create a physical reproduction of the piece. Thus opened a new avenue creating replicas like the Arch of Titus panel.
Neathawk says the education she received at BSU has truly prepared her for what has become a unique and successful career.
"At Bridgewater I learned to look at something from every angle, that no two people look at an item the same way," Neathawk said. "I've always felt prepared. I never felt like I was being taught from a text book, it felt like I was being taught for the real world."
Do you have a BSU story you'd like to share? Email stories@bridgew.edu