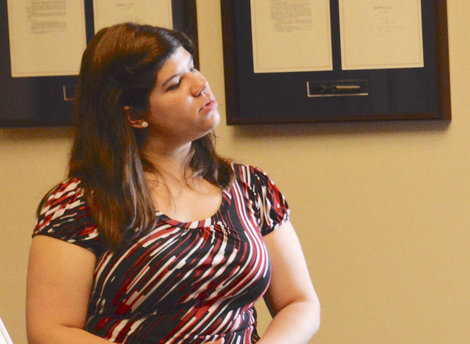 Story Series
News Feature
Natasha A. Silva, '13, has long had a keen interest in public service and politics, and through a job on Capitol Hill, she is getting to experience her share of both.
For the past two years, the New Bedford native has served as an aide to U.S. Congressman Stephen F. Lynch. Currently she serves as a legislative assistant working on policy issues related to education, energy, environment, agriculture, science, and technology.
"Since my freshman year at Bridgewater State, my intention was to work in politics and government," said Ms. Silva, who majored in political science. "So to come to Washington and actually do that is very rewarding."
Ms. Silva began working for Rep. Lynch in June 2015 through a fellowship at Suffolk University, where she had just completed a dual master's degree program in political science and public administration. Three weeks into her fellowship she was hired by Rep. Lynch as a staff assistant/legislative correspondent, a post she held until the promotion to her current job in March.
"She's terrific," Rep. Lynch said of Ms. Silva. He remarked about her performance from the podium at BSU's recent annual Public Service Recognition Dinner. "She came down and worked as an intern for a bit, and just impressed the heck out of all of us." Added the congressman, "She's a wonderful ambassador, a shining example. She puts a great face on BSU in Washington."
Ms. Silva's policy work includes helping draft bills and amendments, meeting with lobbyists, organizations, businesses, and constituents, and monitoring news alerts.
The current tumultuous political climate in Washington can make that work challenging, but also exciting, Ms. Silva reflected. 
"For better or worse, there is definitely history in the making," she said.
Ms. Silva said her time at BSU laid the groundwork for her current job and the position she hopes one day to hold: a professor of political science. A key part of that preparation was her participation in campus activities, including serving as senate chair and president of the Student Government Association.
"If I hadn't done all those different leadership programs that forced me out of my comfort zone, I don't think I would be able to succeed as much on Capitol Hill," she said.