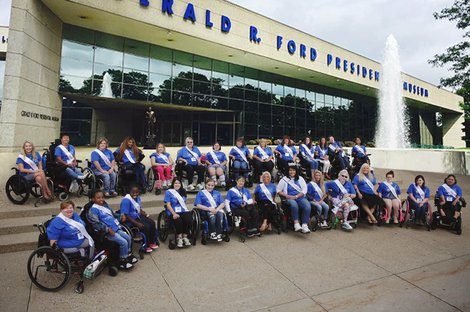 Story Series
News Feature
Victoria Sousa has been described as unstoppable and inspiring. Doubtless these two qualities helped her earn the title of Ms. Wheelchair Massachusetts for 2018.
"It's really not a beauty pageant, but a competition based on advocacy, awareness and education for women with disabilities," Ms. Sousa said.
Over the past year, the Middleboro native has traveled to various events as the reigning Ms. Wheelchair Massachusetts, a title she earned last October during the annual competition hosted by the Ms. Wheelchair Massachusetts Foundation.
Born with spina bifida, Ms. Sousa, '17, relies on a wheelchair for mobility, but that has never stopped her from playing the sports she loves. 
Ms. Sousa wants others with similar disabilities to know they too can participate in athletics such as her favorites – basketball, skiing, tennis and swimming – regardless of the perceived barriers.
When not working as an office manager for the Fred Astaire Dance Studio in Plymouth, the former Bear is out advocating for adaptive sports.
As Ms. Wheelchair Massachusetts, she served as marshal in her hometown's Thanksgiving Day parade, spoke at Tufts University's Paralympic Sports Community Day, and attended the Falmouth Road Race, where she met Paralympian athlete Tatyana McFadden, who has won the Boston Marathon women's wheelchair division four times.
"Meeting her was incredible," Ms. Sousa said.
At each event, she used her position to educate women with disabilities, making them aware of the many athletic outlets available. 
Armed with her inspiring message, at the end of July Ms. Sousa traveled to Grand Rapids, Michigan, where she competed on the national stage against 25 other contestants in the Ms. Wheelchair America pageant. 
Ms. Sousa did not advance to the final round but said the experience was "absolutely amazing." 
"I got to meet people from all over the country," she said. "Each woman's story is unique, but it was great to find people who shared similar struggles and had common interests."
This October, Ms. Sousa is scheduled to turn over the Ms. Wheelchair Massachusetts crown to next year's winner. But until then, she still has work to do, including a scheduled appearance at the 2018 Abilities Expo held in September at the Boston Convention Center. 
Beyond becoming Ms. Wheelchair Massachusetts, Ms. Sousa's goals include working at an accessible and adaptive fitness center. 
"Whether that's running it, managing it, or serving as an instructor, somehow I want to be involved," she said. 
No matter what role or position she's in, for her it boils down to changing overall perceptions.
"I hope to encourage people to think differently and be more accepting towards those with disabilities," Ms. Sousa said.