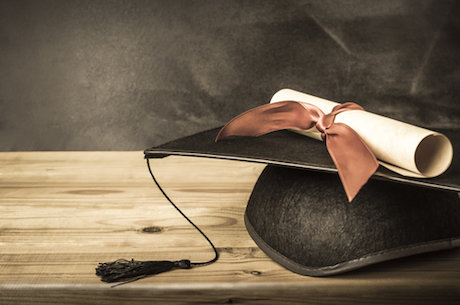 Story Series
News Feature
Patricia Glynn, '77, G '92, and Tara Frare, '11, both enjoy the challenge of inspiring students to love science and preparing them to excel in college. Now the two Plymouth North High School teachers and BSU alumnae are being recognized for their work.
Ms. Glynn and Ms. Frare are among 52 teachers from across the state selected by Mass Insight Education to receive Partners in Excellence awards for exceptional dedication to helping more students take challenging Advanced Placement classes and to receive qualifying scores.
"It feels great," said Ms. Glynn, who has taught biology at Plymouth North since 1996, including AP biology the past 10 years. The Plymouth resident, an overall 30-year teaching veteran, also currently teaches oceanography.
Ms. Glynn said former students have written to her over the years to tell her they chose biology as their field of study in college because of her.
"You always feel great when someone recognizes the hard work you have done on behalf of them," she said." But she said earning the professional award was also satisfying.
"I love my students, I love the subject, and they know that I love it," she said of what she brings to the work. "And I have fun teaching it. Even while working hard, we still have fun in the classroom."
Now in her fifth year at Plymouth North, Ms. Frare is in her second year teaching AP environmental science. She also currently teaches honors biology, oceanography, and MCAS biology.
"I was very happy with my first year teaching the course, and it definitely felt like an honor that they chose me," the Bridgewater resident said of the AP award.
"I am passionate and care about the subject matter," Ms. Frare said "I think that's always a key for any teacher. When you are connected to the curriculum, you can really get your points across a lot easier."
Ms. Frare was a chiropractor for nearly 20 years until an injury forced her to seek a career change a decade ago. The undergraduate research she did in environmental science through BSU's Adrian Tinsley Program inspired her to pursue that subject for her second career, leading to her decision after graduation to become a teacher.
Ms. Glynn also credits BSU with helping prepare her for a teaching career.
"I had a lot of really good professors and I was able to go see any of them whenever I needed," she said, noting that some of them also taught her when she returned as a graduate student.
Both teachers believe AP classes can offer students valuable benefits.
"I see a lot of kids transition from being high school students to college-ready in AP class because they understand better what it takes to manage a college class," Ms. Glynn said.