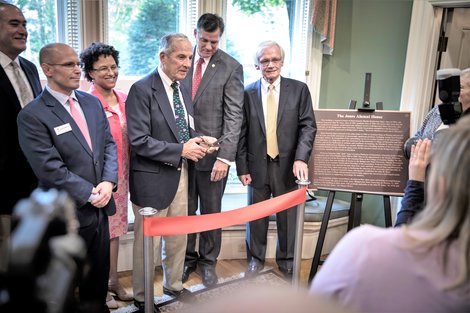 Story Series
News Feature
An emotional John "Jack" Jones, '62, glanced about the room overflowing with friends and colleagues who came to pay tribute to his late wife. 
"Martha would have approved," he said.
It was standing room only during the Oct. 12 Alumni House dedication, where it was announced that Bethany House will hereafter be known as the John W. Jones and Martha Drinkwater Jones Alumni House.
Or, as Bridgewater State University Foundation Chairman Thomas Caron, '75, affectionately called it, "the House of Jones."
Professor Emeritus Barbara Ward was one of many in attendance at the ceremony. 
"This is well deserved," she said. 
Jack Jones was a member of the faculty in the College of Education and Allied Studies from 1969 to 2003. Prior to joining the faculty, he'd served for five years as assistant dean of the College of Graduate Studies. 
His wife, Dean Martha Drinkwater Jones, '64, served as an administrator for 35 years in the Office of Student Affairs, eventually taking on the position of acting vice president prior to her retirement. 
President Frederick W. Clark Jr. credited the couple for giving so much of themselves over the years, as both philanthropists and administrators. 
"(Together they) have given a combined 80 years of service to Bridgewater State, to our students, and to this community," he said.
Board of Trustees Chairman Eugene Durgin echoed the president's sentiments. 
"Today the university gives back to two of its favorite sons and daughters," he said. 
The building at 26 Summer St. was purchased by the university two years ago with the intention of creating a larger and more welcoming Alumni House. Built in 1860, it now becomes the oldest building on campus, surpassing the Gates House which was believed to have been built in the late 1880's. (Photos by Carl Hollant, '15; University News & Video)