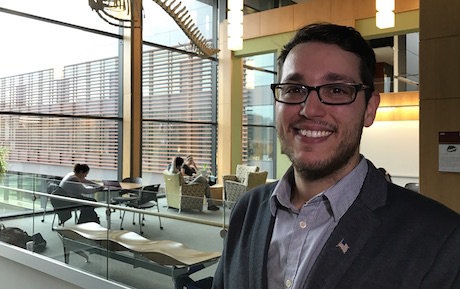 Story Series
News Feature
Brett Zografos, '07, earned a degree in biology at Bridgewater State University and followed it up with a PhD at the University of Texas. 
Now, the scientist is cooking up his biggest experiment yet: A career switch into public service and he's coming back to BSU to do it.
Mr. Zografos, currently serving as a selectman in the town of Dighton, hopes to return to campus next fall to pursue a master of public administration degree with the intention of making a career as a town manager or administrator.
It's quite a departure from his previous work – which included a two-year fellowship in Paris studying brain cancer tumors – but one that Mr. Zografos believes is ultimately more rewarding.
"I didn't run for selectman for me; I ran for the people who asked me to run," said Mr. Zografos, 32, who is one of the youngest selectmen in the entire region. "It gives me a great sense of pride to go to work every day and know I'm doing something for them."
Mr. Zografos studied biomedical molecular biology at BSU from 2003 to 2007 before heading to Texas for his PhD in cell and molecular biology.
Following his participation in a post-doctoral Marie Curie Fellowship in France from 2013-2015, Mr. Zografos returned to the United States to work for an issue-based campaign organization in Boston and began a departure from his given area of study.
"I love science. Reading about it, thinking about it and talking to people about it. I just didn't like the isolation of doing it in a lab," he said. "But I wouldn't change the experience – I'd still get my PhD and I'm grateful for it for the transferable analytic and critical thinking skills. It's about being able to see the truth in people and things; science is about getting to the heart of the matter. I wish politics were always that way."
He's hoping to make a bit of change in the political arena, beginning with his native Dighton. To do so, though, Mr. Zografos thought he needed a bit more seasoning in the classroom and didn't hesitate to apply for an MPA from his alma mater.
"The professors here invest in the students and genuinely care about them. I still run everything by my mentor, (retired BSU professor) Dr. Patricia Mancini," said Mr. Zografos. "For grad school, Bridgewater was my first choice. I love my alma mater and it's like a home to me. Why wouldn't I come back here?" (Story and photo by Charlie Peters, University News)