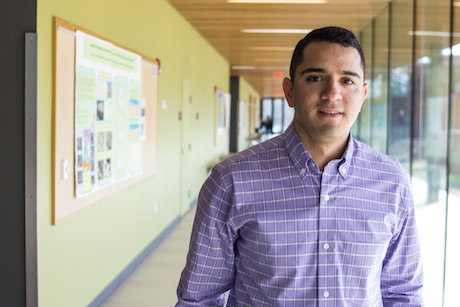 Story Series
News Feature
Jamie Medina, '13, hopes to one day play a role in discovering cures to cancer. Four years after graduating from BSU, he is about to take yet another step toward that goal. 
Since 2013, the Stoughton resident has worked as a research technician studying ovarian cancer at a laboratory jointly run by Brigham and Women's Hospital and Harvard Medical School.
Recently, Mr. Medina was accepted into the PhD program in Cellular and Molecular Medicine at the world-renowned Johns Hopkins University School of Medicine, which he plans to begin in August.
"It's very exciting," said Mr. Medina, noting that many of the Johns Hopkins medical researchers "are tops in their field."
At BSU, Mr. Medina majored in biology and minored in biochemistry with plans to become a doctor. But his laboratory research experience, which started at his alma mater, has inspired his new career goal of becoming a cancer researcher.
He said the undergraduate research he did at the laboratory of biology professors Jeffery Bowen and Meredith Krevosky was invaluable preparation, as was the summer he spent at the Woods Hole Marine Biological Laboratory, and the one-year internship he did at the lab where he currently works before being hired there.
In his job, Mr. Medina studies the "signaling pathways" used by ovarian cancer-causing proteins, and creates cell lines from genetically engineered mice to use in screening potential cancer drugs.
"I really love the research and being able to explore the hypotheses that can lead to new findings that can be applied to patients," he said. (Photo by student Ezechiaste Pompilus, for University News & Media)