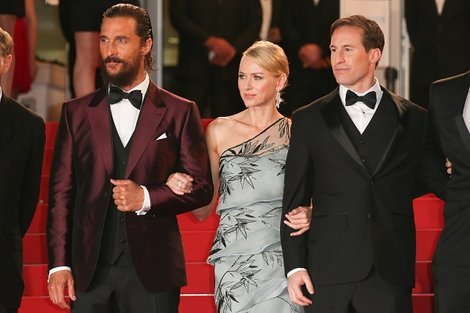 Story Series
News Feature
Many dream of one day giving an acceptance speech or walking the red carpet with flashbulbs popping. For Chris Sparling, G'05, that dream became a reality.
Since sitting in a Bridgewater State classroom 14 years ago, the Rhode Island writer, director and producer has been making a name for himself in the entertainment industry, working with some of the biggest players in the biz. 
He hit gold with his breakout script Buried, which was turned into a movie starring Ryan Reynolds. The film won the Best Original Screenplay Award from the National Board of Review of Motion Pictures.
Since Buried, Sparling has continued to find success, including the home invasion thriller Mercy, which he wrote and directed for Netflix. Following that, he wrote and produced The Sea of Trees, starring Matthew McConaughey and Naomi Watts, and directed by Gus Van Sant.
In 2015, Variety, the entertainment trade magazine and website, included Sparling on its "10 Screenwriters to Watch" list.
In other words, Sparling has "made it."
Back when he studying to earn his master's degree in criminal justice at BSU, Sparling knew deep inside he wanted to work in the entertainment business.
"I come from a working class background where there is not much room for lofty goals," he said.
Yet, he couldn't put down the pen, nor put away those Hollywood dreams.
"I was definitely writing scripts while I was at Bridgewater, but nothing had really caught for me. Essentially during that time I was honing my craft," Sparling said.
In fact, after earning his master's degree from BSU he did land a job as an investigator, but couldn't ignore the call to work in film.
Professor Carolyn Petrosino had Sparling in class. 
"I remember him as a strikingly engaged student, attentive to two critical areas simultaneously —furthering the development of his academic skillsets and continually reflecting on his potential career plans," Petrosino said.
She initially advised him to continue his education and enroll in a PhD criminal justice program.
Sparling pondered her suggestion, but ultimately decided against it and told Petrosino he wanted to pursue a career in film and television.
"I expected her response to be, 'What?' Instead she was pretty cool about it. She was in my corner," Sparling said. "If she had told me she didn't think it was viable it might have steered me in a different direction or discouraged me."
Today, Petrosino is thrilled to hear of Sparling's success.
"Learning that you've somehow made an indelible impression on a student's life journey is simply priceless," she said. "Chris' accomplishments are extraordinary and quite impressive. I would only encourage him to continue to pursue that which gives him a sense of fulfillment and contentment to his work. It is clear that he has so much more ahead of him, new challenges and new accomplishments."
Sparling is currently adapting Proof of Heaven for Lionsgate Films and Stephen King's The Talisman for Steven Spielberg's Amblin Pictures.
Additionally, production is slated to begin next month on Sparling's disaster script Greenland starring Gerard Butler and produced by STX Entertainment.
Sparling appreciates that all of his experiences, including his time at Bridgewater, are part of the process and what has led him to success.
"I'm really proud that I have my master's degree, it's something that took a lot of work and time," he said. "It's important to recognize that it's a long journey and to understand that it's a building process. For some it might come easy, for others it might come harder. For some it's quick, for most it's going to take a long time. If you can be okay with that, I think eventually you will get somewhere."
Do you have a BSU story you'd like to share? Email stories@bridgew.edu