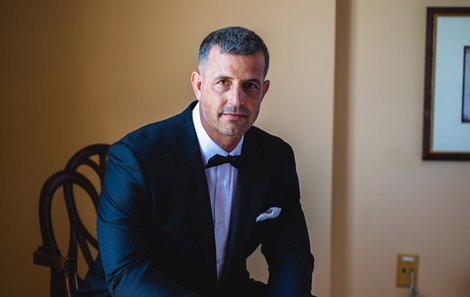 Don't let anyone put you in a box. Don't be afraid to try something. If you fail, learn from it.
Story Series
News Feature
Soldier, Bridgewater State student, Hollywood actor, it's fair to say that Gregory Schwabe, '09, has led an unconventional life.
Opting for the road less traveled has brought Schwabe success and interactions with both world leaders and entertainment heavyweights.
During his military career, he served as the chief of the counterintelligence analysis section of United States Forces Korea. For several years, he worked alongside world officials as a counterintelligence agent fighting terrorism.
All this before Schwabe arrived at Bridgewater State. Once he arrived, however, he found a mentor who helped him with more than just his studies.
"After my military career, I was struggling with a couple of things until Professor Mark Mattese took me under his wing," he said. "I had PTSD symptoms that were affecting my life. He noticed. He gained my trust and we talked about many different things… He was the one who helped me driving forward."
With Mattese's help, Schwabe earned his degree in leisure and sports. He then made the decision to move to Germany.
While there, he worked as a baseball coach to make ends meet, but the drive to protect others called him.
Schwabe found himself back in the security world, working as an adviser for the Munich Security Conference, where every February nearly 4,200 world leaders come together in the Bavarian capital to identify risks and threats facing the world and discuss ways to counteract and prevent them.
He works the event every year and has briefed leaders including the late U.S. Senator John McCain, former U.S. Vice President Joe Biden and German Chancellor Angela Merkel. 
Living in Germany, another career path unexpectedly opened up. Film Director Oliver Stone, yes that Oliver Stone, reached out through a mutual friend for a meeting.
Stone was in Germany working on his 2016 film Snowden, and looking for a military adviser to train more than 50 international extras on how to act like American soldiers. The two men met and talked for more than an hour. As the conversation wound down, Stone offered Schwabe the job on the spot.
Working on the set, Schwabe felt inspired.
"The experience opened my eyes," he said. "The creativity and teamwork involved reminded me of being in the military. I felt like I was home."
Since then, Schwabe has moved to Los Angeles and steadily worked as an actor, often in military roles, such as a soldier in the popular television series Westwood.
When he isn't acting, he is often hired to work as a military consultant for television shows and films.
Because of his desire to give back, Schwabe donates five percent of his acting and consulting salary to Mission 22, a non-profit organization that addresses soldier suicide. He also volunteers his time at Five Acres, a non-profit that works with foster and at-risk children in the Los Angeles area.
"No matter what you have going on in your life, there is always someone who has a harder life," Schwabe said.
On trips back to the East Coast, he always makes a pit stop at Brockton High School, his alma mater. He encourages students to never lose hope and shares his stories and struggles, particularly with PTSD.
"Professor Mattese really laid the groundwork for me to be healthy again," Schwabe said.
The advice he gives to the students: "Don't let anyone put you in a box. Don't be afraid to try something. If you fail, learn from it," he said.
Do you have a BSU story you'd like to share? Email stories@bridgew.edu