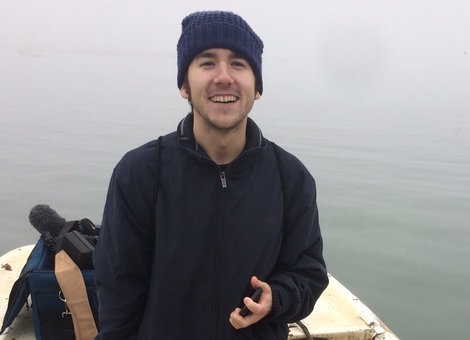 Story Series
News Feature
Jason Kimball, '14, thinks videography is a great medium for telling  stories. And for the past two years, he has been able to put that belief into practice. 
Since 2015, Mr. Kimball has been working as a video producer for Boston University's marketing and communications department, creating mini-documentaries on students, alumni, faculty, and staff that are posted on the university's website and social media channels.
"I really love it," said Mr. Kimball, who films and edits all his stories. "There's a lot of creative freedom. I want to do my best because my job is also my passion."
His documentaries highlight research findings of BU professors and notable achievements of students and alumni. But Mr. Kimball also showcases campus members whose work or activities might not otherwise get much notice, from the Zamboni driver at the ice rink to a dining hall pastry chef, to members of a campus knitting club.
"My favorite part of the process is when I'm filming something they normally do on a daily basis and they almost forget I'm there," he said of his subjects.
Mr. Kimball said his interest in videography grew out of his love of watching movies as a child growing up in Pepperell. "I realized my personality suits documentary filmmaking rather than trying to tell fiction stories," he said.
A communications major at BSU, he honed his video skills through class projects and a part time job producing videos for Team TVS in the Moakley Center. Following graduation, he also created a documentary on the Bridge Partnership summer program. He credits the university with helping shape his career interest.
"They allowed me a ton of freedom which gave me a lot of confidence to try new things and put myself out there," he said.