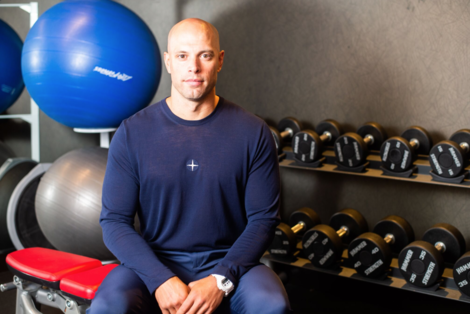 Story Series
News Feature
It took a lot of patience for Joe Hogarty, '01, to make it to the big leagues, but eventually he got his chance.
After graduating from Bridgewater, Hogarty stayed flexible and knew it could take time to reach his goal.
"I had the mindset to push further, but maintained the patience to see what life could offer," he said.
He eventually found a home at Camden Yards with the Baltimore Orioles, as the team's strength and conditioning coach. 
The Andover native was back in Massachusetts with the Orioles in late September for a three-game series against the Red Sox. During his visit, Hogarty explained how making it into to professional sports didn't happen overnight. 
"The biggest obstacle, was trying to be patient at times," he said. "When you graduate from university you want to go, go go. You think things are going to fall into place, but it doesn't work that way."
With a physical education degree in hand, back in 2001, Hogarty initially considered a career in physical therapy. Instead he opted to get certified in athletic training, which led to positions at Brown and Salve Regina universities, among others.
"I never said, 'I'm going to be in the big leagues by this time.' I literally took it one year at a time, and as long as I was thriving, if I was able to take on the challenges and feel stronger from it, I kept going," Hogarty said.
He landed his first major league gig in 2003 when the Red Sox hired him to help train their players. Working at Fenway Park, as it probably would for any New England sports fan, carried special meaning. 
"Fenway was the first stadium I went to as a kid," Hogarty said.
He still has the baseball a police officer tossed up to him during that inaugural trip to the Boston ballpark. 
"My mom wrote my name on it," he said.
After gaining valuable work experience in Boston, Hogarty was then offered and accepted the Baltimore position. He has been with the organization for 15 years. He described the work he does as maximizing players' "force output," creating power, and building and maintaining speed.
Dr. Kathleen Laquale, professor of health promotion and leisure studies, remembers her former student well. 
"It's been such a joy to follow his career and see him become so successful," Dr. Laquale said. "He always took an interest in class, was always on the pulse of things. He asked out-of-the-park questions that you typically didn't hear from most students, that's what always impressed me."
That curiosity and willingness to learn are just some of the reasons Hogarty has achieved such a high level of success, said Dr. Robert Colandreo, associate professor of health promotion and leisure studies.
"Joe was never one to shy away from a challenge. He is a perfect example of how to reach your goals through hard work and perseverance," he said. 
As Hogarty continues to make a name for himself in the majors, he offers this advice for those hoping to follow in his footsteps. 
"Keeping life simple is what's most important. I never got too far ahead of myself and I had a good foundation of education," he said. "Life is not linear, it's got twists and turns and challenges. Be open to the possibilities."