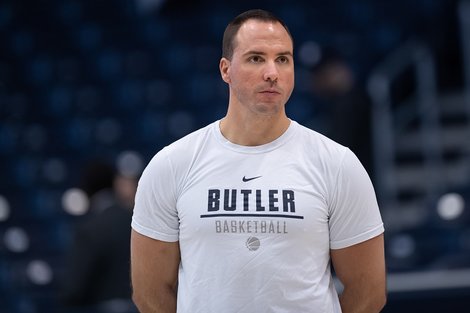 Story Series
News Feature
A Bear was among the Bulldogs when the Butler University men's basketball team recently headed off to compete in this year's NIT tournament.
Matthew Johnson, G'09, is the team's strength and conditioning director. His job is to work with the Bulldogs' 14-man roster to ensure the players are in peak athletic condition.
The team's trip to the NIT tourney is bittersweet. For those that follow college basketball, the Bulldogs are a household name, thanks in part to 16 appearances in the NCAA Division I men's basketball tournament.
In 2010 and 2011 Butler played in back-to-back national championship games, losing to Duke and UConn respectively.
This is the first time in five years the team has not made it to the "dance" – i.e. the NCAA tournament, better known as March Madness. 
"It was disappointing to not see our name called but we will use it to serve as motivation for next year," Johnson said. "I am responding to it like I always do, never high and never low. As a strength coach you need to put the wins and losses aside and be there for your athletes. I've been part of winning seasons and losing seasons, it's never changed the job I do."
It's that attitude and perseverance that has helped Johnson carve out a successful career since collecting his master's degree in strength and conditioning from Bridgewater State University. Prior to working at Butler, he served as director of strength and conditioning at George Washington University.
"Matt was a positive student and an extremely hard worker in all that he did. He was always smiling and willing to help any peer with their studies," said Dr. Ellyn Robinson, professor of Strength and Conditioning at BSU. "The amazing things that our graduates from the Strength and Conditioning program are doing is astonishing. I am very proud of all that Matt and his colleagues are doing."
Johnson will tell you that Robinson is the reason he opted to continue his education at Bridgewater.
"One of the reasons an athlete goes and plays at a certain school is because they trust the coach, they have faith that they will help them in their success," Johnson said. "I believe in her, that she could help me as a young strength and conditioning coach… She is an unbelievable motivator, leader and educator."
Robinson is humbled.
"It certainly makes me feel proud of the work Matt and I did together. It is nice to pause and reflect for a moment on the good things we as professors do at BSU," Robinson said.
Today it is Johnson's turn to serve as a leader and motivate others.
He has had offers to work in the NBA, but for now prefers the collegiate level.
"I love the college world," Johnson said. "The weight room is a great environment for building life lessons – accountability, experiencing failure. Through the weight room you get some healthy doses of those lessons."


Do you have a BSU story you'd like to share? Email stories@bridgew.edu