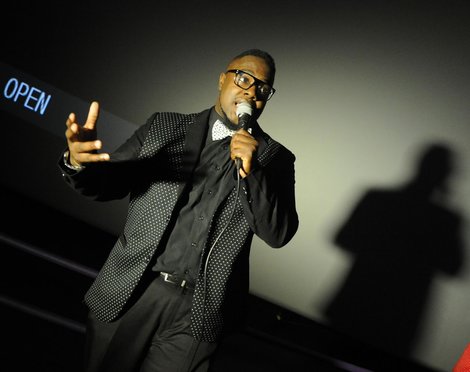 Story Series
News Feature
 [Editor's Note: This is the second of four stories for Black History Month]
When he was a student at Bridgewater State University, Noube Rateau, '10, watched in frustration the day protestors arrived on campus carrying posters depicting then-President Barack Obama as Adolph Hitler.
Those carrying the jarring signs back in 2010 were demonstrating against Obama's stand on healthcare reform. In response, Rateau made a documentary, "Human Rights Overdue," supporting the president's healthcare proposal.
Tackling important social issues like this is what drives the young black director.
In 2009, the Brockton native founded Noube Productions, and in doing so created a platform where he can continue his work and create films that both educate the community on real-life situations and offer possible solutions.
Rateau had additional motivation for starting up the production company.
"Statistically speaking, less than 10 percent of directors in Hollywood are black. When we watch films it's often how white people perceive black people. I want to tell stories about how people actually live, question stereotypes and discuss controversial issues," Rateau said.
The documentaries produced by Noube Productions have been well received, many earning honors including a 2016 best documentary New England Emmy nomination for Out of Bounds.
That film, co-directed with William Medero, tells the story of inner-city athletes and the struggles they face. The film features interviews with athletes and sports commentators, including ESPN's Stephen A. Smith and Basketball Hall of Fame reporter Jackie MacMullen.
Chronicling hot-button social issues will always be the goal for Noube Productions.
Rateau's favorite work to date is Fatherhood, a documentary that explores the stereotype of African American families where the father is not present.
When he's not directing, the alumnus can be found guiding the next generation of filmmakers as a teacher at Lynn Vocational Technical Institute. 
"I find that the things I do, I can apply them in the class. It makes me a better teacher," Rateau said. "I use TV production as a vehicle to teach life skills."
He plans picking up the camera again soon and is considering taking American education as his next subject.
"Making these documentaries, it's not about the money, I'm not retiring off of it," Rateau said. "But I go to work every day in a TV studio, it's the best job in the world. The God's honest truth is, I'm doing what I love." (Story by Heather Harris Michonski, University News and Video)
Do you have a BSU story you'd like to share? Email stories@bridgew.edu