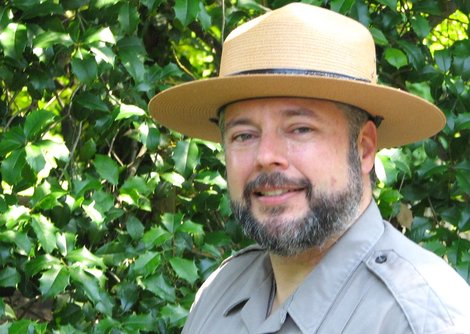 Story Series
News Feature
Tom Ross, '94, sees himself as a steward of three of the nation's key natural and historical resources.
"My job is to ensure they are there for this and future generations to learn about our great country," said Mr. Ross, who has worked for the National Park Service for nearly 20 years and oversees three parks in the Mid-Atlantic states.
Mr. Ross, who majored in geography and history and minored in secondary education and business management while an undergraduate at Bridgewater State, is superintendent of Thomas Edison and Morristown national historical parks in New Jersey. He is also acting superintendent of Delaware Water Gap National Recreation Area, which stretches along the Delaware River on the Pennsylvania-New Jersey border.
Mr. Ross credits his Bridgewater experience, which includes helping start the Sigma Pi fraternity and studying abroad in Canada, with preparing him to be a leader in the National Park Service. He praised Bridgewater for helping him hone his writing skills and learn about history. He also volunteered in New Bedford during his time as a bear, service that helped him land a job with the coastal city.
"Bringing all of those pieces together really helped me in my career and gave me the platform to succeed and make it to where I am today," said Mr. Ross, who also served in the Massachusetts Air National Guard while an undergraduate student.
Mr. Ross, who has a master's degree in regional planning from the University of Massachusetts-Amherst, began his National Parks Service career at the then-newly established New Bedford Whaling National Historical Park.
He currently oversees a diverse collection of properties. The approximately 70,000-acre Delaware Water Gap offers opportunities for hiking, boating, biking, fishing and hunting in a landscape marked by the 1,000-foot-deep water gap. Edison features Thomas Edison's home and laboratory, while Morristown commemorates Gen. George Washington and the Continental Army's encampment during the winter of 1779-1780. 
Mr. Ross said he is proud of the partnerships built with organizations outside of the Park Service. The Washington Association of New Jersey, for example, helped fund a $2.5 million interactive exhibit at the Morristown park.
"I don't take for granted the fact that working for the federal government is about public service and that each and every day I go to work to do the public's business and be the caretaker of these special places that are owned by the American people," he said.