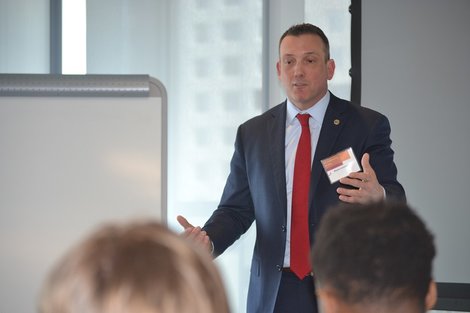 Story Series
News Feature
When Wayne Lombardi, '92, graduated from college, he knew he wanted to be in business. However, beyond that the goal was vague.
"I wanted to wear a suit and carry a briefcase," he said.
Step by step, Lombardi carved out a successful career and today is a partner/principal at PricewaterhouseCoopers, or PwC as it's commonly referred to, which is one of the world's prestigious "big four" accounting firms.
He also serves on the Bridgewater State University Foundation Board.
Despite his success, Lombardi can still recall the insecurity he experienced leaving BSU, and has made it his mission to help younger Bears find their footing.
"One of the reasons I joined the board was because of the relationship with the internship program. I have a passion for helping BSU kids launch better than they would have otherwise," he said.
And he isn't alone in his desire to help.
"Many alums are looking for new ways to give back, asking, 'what can we do other than just writing a check?' There are so many of us who have knowledge and experience that we are willing to share," he said.
On March 20, a group of Bridgewater students soaked up that knowledge as part of the annual BSU to Boston Program. The trip was co-sponsored by Career Services, the Ricciardi College of Business and University Advancement.
Students signed up for site visits to learn more about Fidelity, Delta Airlines, JP Morgan, Brown Brothers Harriman, DraftKings and PwC.
Junior and accounting major Matthew Sheehan was one of nine students who traveled to PwC Boston, where many BSU alums are currently employed.
"I thought this would be a good opportunity for networking, especially with alumni who know what it feels like to be in our shoes," Matthew said.
After listening to Lombardi, alumnus Tucker Hargreaves, '12 and double Bears Danya Marhamo, '17, G'18, and Mikayla Kenney, '16, G'18, shared tips and advice on what it takes to work at a company like PwC, Sheehan felt more confident.
"Being here today, it gives you a sense that people can come from the same place as you and you can get to where they are, you can find success," Matthew said.
That response is exactly what Lombardi and other alumni like to hear.
"Bridgewater is a fantastic school where students are known for their work ethic. There is a 'special sauce,' if you will, associated with the school that many of us who went there are aware of," Lombardi said. "We want to talk to BSU students about that special sauce and help one intern, one student at a time, to have tailored discussions about what students' career goals are and help prepare them for those futures." 
Do you have a BSU story you'd like to share? Email stories@bridgew.edu