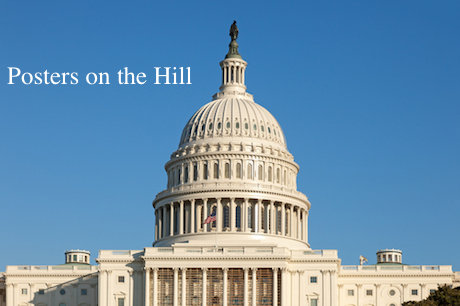 Story Series
News Feature
Several years ago, Ann Sylvia, '18, lost 100 unwanted pounds through simple diet modification and daily exercise. That experience inspired her to tackle the obesity crisis currently facing the United States. 
Her research on the subject has earned her an invitation to Posters on the Hill in Washington, D.C., the most competitive undergraduate-research showcase in the country. It is held in the Rayburn Building of the U.S. House of Representatives on Capitol Hill, and each year outstanding undergraduate research projects from across the U.S. are selected for presentation. 
Congressional representatives, senators, their staff members, and the employees of numerous governmental agencies – including the National Science Foundation –are invited to hear about research conducted by the best and brightest undergraduate students in the U.S. 
This marks the eighth year in a row that BSU has had at least one student accepted to Posters on the Hill. This is tops in the country.
Ann, who is double majoring in physical education and exercise science, said her research is something very personal
"Losing the weight and becoming significantly physically active changed my life in many ways," she said. "Having lived with obesity myself, I knew I wanted to help others and change our health care system to empower others to beat obesity."
The New Bedford native was awarded a 2017 Adrian Tinsley Program (ATP) summer grant to conduct research on "exercise as medicine," mentored by Dr. Jennifer Mead, assistant professor of Movement Arts, Health Promotion and Leisure Studies. 
Ann's study, "Understanding Patient Experiences with Healthcare Providers and Exercise Promotion," explored the type of information patients receive about regular exercise from primary healthcare providers, or PHPs. 
"I believe exercise needs to be prescribed as medicine, because exercise is both preventative and curative in nature, and patients who present with obesity should be referred to an exercise physiologist, just like we refer patients who present with signs of cancer to an oncologist," Ann said.
Through the study, Ann found while patients are being encouraged by PHPs to engage in exercise for improved health, not enough information is being provided to help patients identify a qualified exercise professional to support and guide exercise efforts. 
"While my research is not science heavy, it is absolutely an urgent subject and I am honored to be recognized for the importance of my research," Ann said. "I am excited to head to Washington to talk with lawmakers about the importance of improving the health of our nation through physical activity."
Dr. Karim Ismaili, provost and vice president of academic affairs congratulated Ann on being selected. 
"Your success is something we all take great pride in," Dr. Ismaili said. "The topic is important, one that deserves to be the focus of attention in our nation's capital."
Ann will present at Posters on the Hill in the Rayburn House Office Building on April 18. (Story by Heather Harris Michonski, University News)