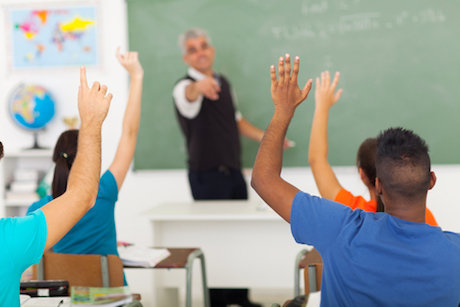 Story Series
News Feature
Hundreds of teachers from across the country and other nations are on campus to learn how to help students succeed in AP classes. AP stands for advanced placement, a program created by the College Board which offers college-level courses to high school students.
In a continuing partnership with Mass Insight Education (MIE), Bridgewater State University for the fifth consecutive year is hosting the organization's annual two-week Advanced Placement Summer Institute, a comprehensive training program for aspiring and experienced AP teachers.
This year's Institute, running from July 24 to August 4, for the first time includes a separate training session for AP capstone teachers. AP capstone is a new two-year program of AP research and seminar classes that helps students hone their critical and creative thinking skills, and research techniques.
"We all know that colleges are looking for students to have this kind of analytical research ability so we were anxious to become involved in this," Susan Lusi, MIE's president and CEO, said of the capstone program.
The Summer Institute is one of just eight sites nationwide selected by the College Board to offer the AP capstone training this year, according to officials from MIE, a 20-year-old nonprofit that promotes educational reform.
In all, more than 520 teachers from 25 states and seven foreign nations are participating in this year's institute. They are being taught by about 40 instructors from across the United States, including current and former AP teachers, and college faculty members.
Each participant attends one of the institute's two five-day sessions, and earns required certification to teach AP classes. Those already certified can fine-tune their skills.
"People have the opportunity to learn not only from professional instructors but from one another," Ms. Lusi said.
Praising BSU as a partner in the institute, she said that university officials and staff have been "just phenomenal in working with us."
Among this year's instructors is a BSU alumnus, Michael Murray, '94, G '02, an AP biology teacher at Pembroke High School, who taught a class for educators in his field.
"It's very rewarding to develop a team of teachers to share best practices and to refine the curriculum they are working on," Mr. Murray said. "I had really great participation from teachers who really care about their kids."