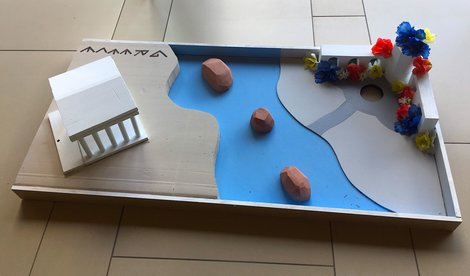 Story Series
News Feature
Where can you journey around the world without leaving campus – all the while playing miniature golf?
How about a second-floor hallway of the Dana Mohler-Faria Science and Mathematics Center, where you can tee one up thanks to students in Professor John Hooker's Three-Dimensional Design classes. 
The 16-hole miniature golf course, which is on display through Wednesday, is unlike anything most players have ever faced, revolving as it does around the theme of travel. Holes whisk players to an airport TSA checkpoint, Hawaii, the Bermuda Triangle and elsewhere.  
The project has caught the eye of passing students who stop and play a round with the provided clubs and balls.
Rachel Kennedy-Curran and Eric McCauley, both members of the class of '21, created a hole that challenges golfers to hit balls from Earth to the Moon or, in this case, up a narrow ramp.
Rachel, who is from Hanson, said her artwork normally reaches a limited audience.
"It's really fun to have something out in the open for everyone to see and enjoy," she said. "I like the fact that I can contribute to helping brighten other people's day."
Professor Hooker, who teaches in the Department of Art and Art History, drew inspiration for the project from his time studying art education at Missouri State University in Springfield, Mo. He saw a miniature golf course at an art museum and wrote a lesson plan around creating courses. This is the second time he has tackled the project while teaching at BSU. Students in the Three-Dimensional Design class tackled a variety of other activities, including making life casts of their faces and creating large heads made out of cardboard, papier-mâché and chicken wire.
For the golf course, students made the holes mostly using wood and foam and learned how to use saws, drills, sanders and other tools with which many students are unfamiliar, he said.
The project also challenged them to work with partners and learn time-management skills, said Rachel.
 "I refer to it as 'how to make stuff,'" Professor Hooker said of the course. (Story and photos by Brian Benson, University News)