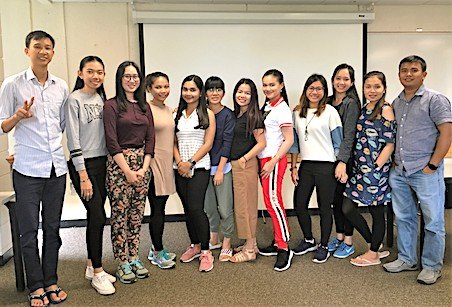 Story Series
News Feature
Students studying more than 8,000 miles away at Cambodia's Pannasastra University are evidently aware of and talking about Bridgewater State University. 
"Before I came, I had heard about Bridgewater from other students who had gone to school here. I wanted to come and see for myself what it was all about," said Viphalla Sarath, a visiting Cambodian student. 
Two assistant professors and ten undergraduate students, made the trip from Cambodia to BSU this July to spend two weeks on campus studying community learning, English and American culture. 
During their stay the cohort made day trips into Boston that included visits to the Museum of Fine Arts (MFA) and other institutions, such as Harvard University and the Massachusetts Institute of Technology. 
"I loved the museums here," student Som Poka said. "I could spend a whole day at the MFA."
Differences in how citizens get around in the U.S. surprised the Cambodian students. Many locals would agree with their observations regarding Boston public transportation. 
"It's very slow," Som said with a laugh.
Unlike her home in Cambodia, Viphalla noted traveling to a store for supplies in the Bridgewater suburbs can be difficult. Back home she simply hops on her scooter to run errands.
"Here, a personal vehicle is necessary to have to access to get where you want to go," she said. 
This is the first time BSU has hosted students from Pannastra University, said Dr. Wing-kai To, assistant provost for global engagement and senior international officer.
"We are always looking to bring people from around the world to BSU, and the summer program is one of the ways we can do that," Dr. To said. 
Also traveling to campus this summer are 11 Chinese students from the Capital Normal University of China. It is the first time students from this particular university have stayed at BSU. 
Some of the visitors are teachers while others are working toward earning a master's degree in education. During their two-week stay, the group compared the educational differences between schools in the United States versus their homeland. 
Aside from site visits to Boston, both visiting groups also took English classes and attended lectures on American culture, all taught by Bridgewater faculty. 
"The lecturers were helpful and friendly and encouraged us to go after our goals," Viphalla said. "I loved it here and hope one day to be able to pursue a master's degree in the United States."