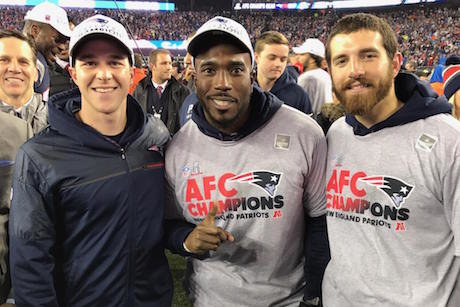 Story Series
News Feature
Tom Brady and his teammates have a healthy respect for the organization's athletic trainers and sports-medicine staff who keep them on the field, and three alumni have played a role in getting the New England Patriots back to the Super Bowl.
Michael Akinbola, G '17; Matthew Fuller, G '17; and Lee Maniff, G '16, found themselves wearing AFC champion T-shirts on the Gillette Stadium field after the Patriots eliminated the Steelers — and with good reason, as the trio of athletic training program alumni worked with the organization's sports medicine staff this season.
But the playoff victory wasn't the only big win for the training staff this week. The NFL has named the Patriots sports-medicine team the 2017 recipients of the Ed Block Courage Award as outstanding training staff.
The training staff, which has been under the direction of head athletic trainer (and Bridgewater alumnus) Jim Whalen since 2002, will be presented with the award on March 9 during a ceremony in Baltimore.
In a release from Patriots.com, Mr. Akinbola was mentioned as playing a key role as the physical therapist for the team. He joined the team in the summer of 2016. 
BSU's Athletic Training Program has maintained a key partnership with the renowned NFL franchise, one that brings Super Bowl trophies to Foxboro and pride to Bridgewater.
"We have much to be proud of in regards to our partnership with the award-winning New England Patriots athletic training staff," said BSU President Frederick W. Clark Jr. "It is very nice to see our engagement with one of the most recognizable businesses and franchises in New England deepening as we move forward." (Story by Charlie Peters, University News & Media)