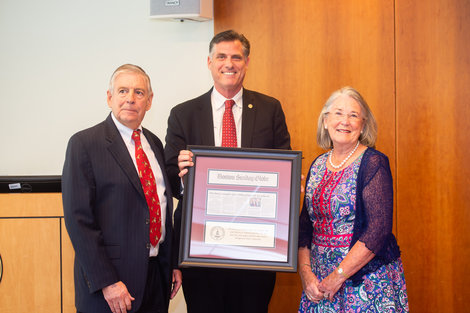 Story Series
News Feature
Thirty students were honored during the annual Bartlett Scholarship Funds Luncheon, held earlier this month in the Dunn Conference Center. 
The scholarships, established by Bruce, '68, and Patricia (Quinn), '67, Bartlett, recognize undergraduates' academic success and support those with financial need.
President Frederick W. Clark Jr., '83, praised the students for their hard work.
"Many have overcome long odds and countless obstacles through shear grit and determination," President Clark said. "They have turned obstacles into opportunities, learned from their experiences, and been motivated to help others as a result."
SEE BELOW FOR A FULL LIST OF SCHOLARSHIP RECIPIENTS. 
The Bartletts, Dr. Brenda Molife, vice president for University Advancement, and Eugene J. Durgin Jr., chairman of the Board of Trustees, also spoke at the May 24 ceremony. Scholarship recipients Jasmine Scott, '18, Sophie Scrimgeour, '21, Owen O'Donnell, '18, and Elizabeth Rego, '18, likewise shared their thoughts at the event.
Bruce and Patricia Bartlett met while students at Bridgewater State. In 2004, they launched the Bartlett Foundation, which has funded medical research, scholarships and other projects. Bridgewater State named the College of Science and Mathematics after the Bartletts in recognition of their generous support of the university. 
The Bartletts' philanthropy also includes the donation of $8 million worth of property in Plymouth – the largest gift in BSU's history. During the luncheon, President Clark presented the couple with a framed copy of the Boston Globe story announcing the donation.
"All of us here at BSU are truly fortunate that Bruce and Patricia Bartlett love, and are helping support, their alma mater in such a meaningful, impactful and lasting way," President Clark said.
The Patricia (Quinn) Bartlett, '67, Endowed Scholarship Fund supports students who have outstanding academic accomplishments as evidenced by a grade point average of 3.5 or higher. The Bruce Bartlett, '68, Endowed Scholarship Fund supports students with high financial need as well as strong academics as demonstrated by a grade point average of 3.0 or higher. 
Each year, at least three recipients must be members of the Kappa Delta Phi philanthropic fraternity. 
The annual luncheon also celebrates the philosophy that guides the Bartlett's commitment to giving back to their alma mater: "The bottom line is simple. Public education needs private philanthropy and this is an important time for people to help in any way they can." (Story by Brian Benson, University News)