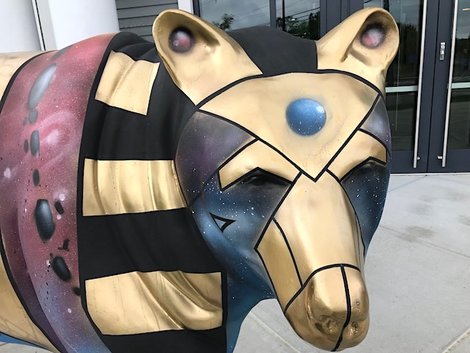 Story Series
News Feature
Traffic is moving a bit slower by the Welcome Center these days due to curious motorists pausing to catch a glimpse of BSU's newest resident – a life-sized fiberglass bear. 
Actually, the statue is one of four installed on campus, created by regional artists from Boston's Street Theory gallery, with funding from the president's office.
Aside from the Welcome Center, new bears are prowling in front of the Rondileau Campus Center, near the old clock tower on the East Campus, and nested in the pond area on the great lawn.
Jay Block, associate director of collections and exhibitions, organized the project, collaborating with Street Theory to commission the four artists to design the sculptures.
"My mission is to bring art to the campus that you wouldn't normally see," he said. 
He opted to connect with the gallery because of its reputation and ability to create authentic pieces of art. The gallery's professional muralists travel around the world, creating unique street art intended to empower communities. 
The bears were ordered from an online family-run business that specializes in making fiberglass animals. Once the bears were made, they were delivered to the Street Theory gallery where artists Victor Quiñonez, Rob Gibbs, Sagie Vangelina, and Jeff Henriquez transformed them.
The only ground rules included the absence of trademarks, logos and­­­ profanity. 
"I left it open to them because they are professional artists," Mr. Block said. "I didn't want to edit them because then you wouldn't get a good product."
For his "Oso Nativo" bear Mr. Quiñonez opted to go with vibrant colors; Mr. Gibbs used gold metallic paint for his striking "Egyptian Lover"; "Off Track", created by Ms. Vangelin, displays graphic black-and-white lines mixed with color to create a psychedelic vibe; while Mr. Henriquez's "Smokey" bear is predominately black and white with wisps of gray throughout.  
A team from Facilities Management and Planning installed the bears. Mr. Block said the crew did a phenomenal job.  
"They have gone in fairly easily," he said. "The team has been a dream to work with... Everybody on this campus just wants to make it better," he said. 
The plan going forward is to add three to four smaller "cub" bears each year, designed by students, faculty, staff and alumni. The smaller bears will likely be installed inside campus buildings. 
"There will be more bears," Mr. Block said, but for now he hopes those who come across the new BSU statues enjoy them. 
"I think they are absolutely fun," he said. (Story by Heather Harris Michonski, University News)