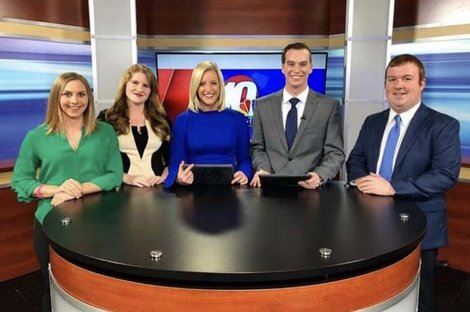 Story Series
News Feature
Breaking into the news business isn't easy. For 2017 graduates Molly Hurley (pictured above) or Amanda Pitts (pictured below), all it took was hard work and perseverance.
 
After graduating with degrees in communication studies, the women embarked on successful careers sharing the news in front of and behind the camera.
 
Pitts currently works as a news reporter for ABC 6 News in Providence, Rhode Island, while Hurley is employed as a multimedia journalist at KMOT-TV in Minot, North Dakota.
 
"I'm not surprised by her success. Amanda is outgoing, personable and doesn't take herself too seriously, all good characteristics for an on-camera news reporter," said Dr. Arthur Lizie, communication studies department chair and professor.
 
Professor Dr. Jessica Birthisel is equally impressed with where Hurley has landed.
"I really admire how Molly was willing to relocate for a career opportunity. A lot of our BSU students are resistant to considering such a thing, but I think it's going to set her up so well for future opportunities," Birthisel said. "I'm really proud to see how much experience she's already gained and I love following her reporting via social media."  
BSU caught up with both women recently to learn more about their budding careers in the media.  
Why did you want to be a reporter?
Hurley: "At Rockland High School I was writing for the student newspaper. After the Boston Marathon bombings the newspaper staff sat in on an undergraduate class at Boston University. After seeing how the staff came together to bring the news of the bombing to the students… I knew in an instant I wanted to go into journalism."
Pitts: "I always loved the news. When I was younger I was the first person to tell anything I found out."
 
What do you like best about your job?
Hurley: "I love talking to people. There are times when I'm talking with people I find myself getting emotional. Talking with people and letting them know I'm not just using them for a story, but care about the story I'm telling… It reminds me why I do this."
Pitts: "The best part is that every day it's different. I never wanted an office job. I wanted to something where each day there is a new challenge. In this job it's always exciting."
The alumnae credit the experience they gained through internships, acquired through the BSU internship program, which enabled them to compete for highly desirable media-related positions right after graduation.
 
Hurley and Pitts both interned for WCVB Channel 5 News and BTV, a local public access station.
 
Were your internships important?
Hurley: "Internships are what you make of them. There is a fine line between being persistent and wanting to obtain knowledge, but you have to advocate for yourself."
Pitts: "I don't think I'd be where I am now if I didn't have the internship experience."
 
What advice do you have for students looking to follow a similar career path?
Hurley: "If you're considering a career in news you have to be driven and a go-getter. It's never going to be handed to you. Take advantage of the resources around you. You have to create your own destiny and set yourself up for success."
Pitts: "Take advantage of all Bridgewater has to offer. The internships really helped me and made me realize this is what I want to do. Take advantage of all opportunities." (Story by Heather Harris Michonski, University News and Video)
Do you have a BSU story you'd like to share? Email, stories@bridgew.edu.