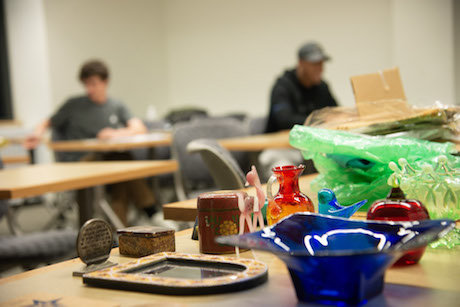 Story Series
News Feature
You can have "bad chemistry" with a lot of things, which can make you go out of your way to avoid them. 
When looking to fill their science electives some students might skip over courses with the word "chemistry" listed in the description.
Professor Iana Mandravel-Hutchins is working to change that attitude with her Art Uncovered class. 
"The key to the heart of art is chemistry," she said. "I don't want students to be fearful of chemistry. I try to teach them basic principles, then they can look at art with a chemist's eye."
Chemistry is found everywhere in the art world, Mandravel-Hutchins said, and the goal of her second year, speaking-intensive seminar is to show ways the two are related. It was used to help restore the Sistine Chapel, is applied in the preservation of paintings, and even found on television's Antiques Roadshow, where it helps reveal the value of objects examined by the show's appraisers. 
During the course students travel back to ancient times to learn how chemistry was used to create paint pigments, examine the layered structure of a painting, understand the chemistry of colored glass, and how science is not only used to detect fake works of art, but also involved in the creation of counterfeits. 
Students are also exposed to different tools used in chemistry and art, such as using x-rays to see what's going on under the layers of a painting, Mandravel-Hutchins said. Students from all majors are welcome to register for the course to learn more about the intermingling of science and art.
"This class is not about memorizing chemical reactions. You won't become a chemist by taking this course, but it will get you to recognize how science is related to art," she said. (University News & Video; photos by Drew Cambra, '19)