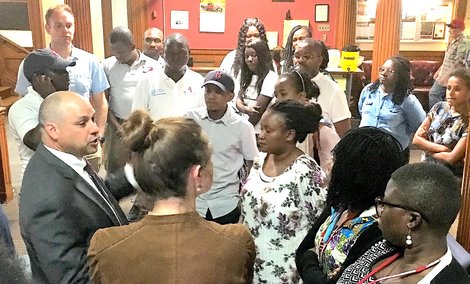 Story Series
News Feature
Upon entering the room, Bridgewater State University's cohort of Mandela fellows scanned the open area to find row upon row of bunkbeds. A bag rested on nearly every one, positioned on top of the mattress, signifying it was occupied for the night. 
And so began the fellows' tour of Father Bill's and MainSpring's Brockton location, where both emergency sheltering and permanent supportive housing is available for those in need. The nonprofit organization's mission is to end and prevent homelessness in Southern Massachusetts. 
President and CEO John Yazwinski shared statistics with the visiting fellows to illustrate the ever-increasing need for shelter and housing for the homeless. 
In fiscal year 2017, the charitable organization, which also has a presence in Quincy, sheltered 1,904 individuals, averaging 224 individuals per night; 254 families were also sheltered last year, including 430 children, averaging 134 families per night.  
As long as they can walk into the building of their own free will, Father Bill's and MainSpring will help, Mr. Yazwinski said.  
 "We are faith-based and are not going to judge," he said. "We would rather have people sleeping inside then out on the street… If they can walk in on their own power, they are welcome."
Fellow Kirsten Fawn Hornby wanted to know, with such a liberal approach, is violence ever an issue? 
Fights inside the building are rare, said Jon Lanham, triage director. 
"It is a lot more violent out on the streets than in here. Those that come here want a quiet night, a meal and a bed to sleep on," he said. 
As the fellows continued on with their tour at the Brockton site positive affirmations such as, "Every day may not be good, but there is something good in every day," decorated the walls. 
The fellows wanted to know if the organization's efforts are effective and making a difference. 
Mr. Yazwinski said the organization has been able to aid many, with assistance from the state's Tenancy Preservation Program, which assists disabled individuals and families facing eviction, and helped 96 percent of the households it serves remain housed. Father Bill's and MainSpring facilitated 375 individuals to exit the shelter into housing or other systems of care, and ended homelessness for 73 families, helping them move into housing. 
Ultimately, for the 6,653 people in cities and towns in Southern Massachusetts who had nowhere to go in fiscal year 2017, Father Bill's and MainSpring offered a refuge from the streets.
"Not every story ends up positive but in the 20 years I've been here, there are less people dying outside alone," Mr. Yazwinski said.
With so many in need, the goal to find solutions to end homelessness will continue he told the fellows.
"I love the idea that we are not trying to manage a problem, but to end it." (Story and photos by Heather Michonski Harris, University News)