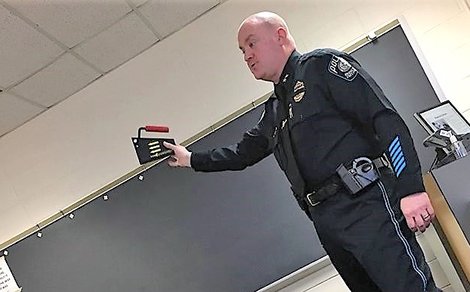 Story Series
News Feature
Assistant Police Chief Mike Froio of the Bridgewater State University Police recently presented a two-day active-shooter training course to students in Professor Kim MacInnis' "Mass Murder" class. 
Dr. MacInnis, a sociology professor, has invited Asst. Chief Froio into her classroom annually for the past five years, so students will know how to react should they be presented with a situation similar to the recent mass shooting in Parkland, Fla.
Asst. Chief Froio began these active-shooter training sessions nine years ago. Since then, he's repeated the presentation 165 times, training approximately 4,000 to 5,000 members of the BSU community.
The goal of the training is to replace fear with knowledge, he said. 
"I want you to be mindful, not fearful. I don't want anybody to leave today in fear," he said.  
The recent presentation started with a five-minute "Run, Hide, Fight" video (warning: graphic) that reenacted an active-shooting situation. Upon watching the video, Asst. Chief Froio posed questions, seeking input on certain details to drive home the importance of being aware of one's surroundings.
"Our generation today is too focused on what's in front of you," he said. "You need to view the world around you with a big-picture lens, and stay in tune with your environment."
Reporting the things and people that seem out of place is also imperative, Asst. Chief Froio said. "Trust your instincts. Don't feel you are bothering the police… We are going to investigate it, we are not going to ignore it. You have my word on it."
Because most acts of violence are random, it is important to have a plan and respond quickly, Asst. Chief Froio said. 
"You need to react with a purpose to increase your chance of surviving the incident," he said.
The first step is to figure out what is happening and how to get out of the situation. 
"Try to get out and run to a place of safety," Asst. Chief Froio said. "Don't take your belongings with you, get your keys and your phone and go," he added. 
Upon reaching a safe place, the first call should be to 9-1-1. 
If running isn't an option, the next step is to hide and barricade. Doors should be locked, lights turned off, phones set to vibrate and everyone needs to remain quiet. 
"Many of these shootings have been random with the shooter going through the building quickly, looking to kill as many people as they can. If a door is locked and it looks like no one is in there, they will move on to the next door," Asst. Chief Froio said. 
Finally, if it's impossible to run or hide, he said, be prepared to fight. 
"Act with aggression, improvise weapons, and commit to your actions," he said.
Over the years, Professor MacInnis said the active-shooter trainings have been impactful. 
"You can tell by the look on their faces that the students are seeing things they have never thought of before," she said. "I think it's reassuring for them to know that someone is coming in and showing them that there are resources on campus that might make them feel safer. They get to see that the school is concerned for their well-being." (Story and photos by Heather Harris, University News)