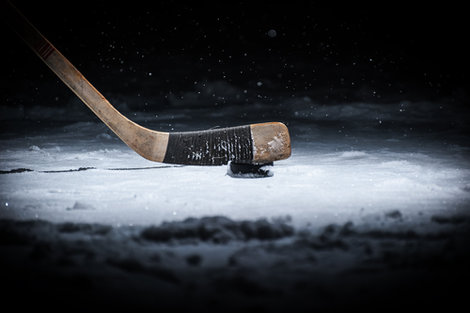 Story Series
News Feature
If Professor Andrew Holman was a contestant on Jeopardy and host Alec Trebec offered the answer, "Speed, Science and Mayhem," after buzzing in Holman's response would be, "What is hockey?"
For Holman, who leads Bridgewater State University's Canadian Studies program, the sport has been part his life as far back as he can remember. 
"My older brothers played, my dad played. Hockey was always something you did, not something you decided to do. It wasn't an expectation, it was just normal…Hockey has been a passion for me in terms of my own life," said the native Canadian. 
Holman, who coached the Bears hockey team from 1998-2011, shares his passion for the sport in his latest project, Hockey: A Global History, a book work he co-wrote with Stephen Hardy. 
The book represents 25 years of research gathered by the two authors. 
"This is not a book about glorified shop talk," Holman said. 
It covers the global history of hockey, from its birth in Montreal to its migration to the United States and Europe. Woven throughout are stories from individuals who demonstrate broader changes taking place within the sport. 
"It's not about statistics or fights, those do work their way into the narrative, but really it's about the bigger, broader questions about how people organize sport and how it's delivered to people," Holman said. 
Through the lens of hockey, the nexus of class and race is explored, as well as socioeconomics. The authors examine questions such as: What happens to a sport when it evolves from amateur to a commercial enterprise business?  
The book reveals the complexities of hockey, including racism and how whiteness was once used as a means of exclusion in the game. The science behind the sport is also explored.
"Hockey became a political divide," Holman said. "It's so complex. It really is a mirror of society, not just the good things, but many of the fissures that divide people in society. We talk about sport being a microcosm of society and hockey is a good example."
The BSU professor isn't done writing about hockey just yet. He is currently traveling throughout Canada to create a book of documents that trace the arc of hockey history in Canada. The project is being commissioned by Canada's Champlain Society.  
Through his research, Holman will continue to seek out stories that demonstrate the intersection between broader social issues in Canada and hockey. 
"It's always fun to debunk something. I really think that's what drives my particular type of writing," Holman said.
More details can be found at the publisher's website.