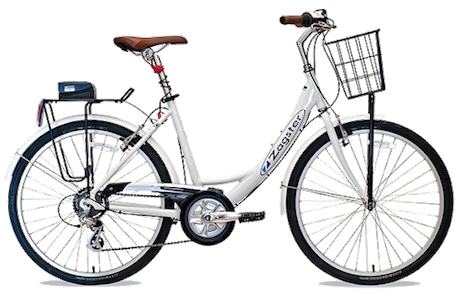 Story Series
News Feature
Bridgewater State University and Zagster Inc. have announced a new bike-share program that will provide a convenient, affordable, and healthy way to get around campus.
Starting in late August, Zagster cruiser bikes will be available at four stations across campus for members to use for on-demand, local trips. They are the Spring Street Lot (near bus stop), the Moakley Center, Rondileau Campus Center, and the parking garage.
Riders join the program by signing up for annual, monthly or three-day memberships (BSU's plan is to be determined, as is pricing). Riders must be 18 or older.
The four stations equipped with five bikes each represents the first phase of the Zagster rollout. At some point, a second phase will increase the number of docking stations to six, increasing also the number of available bikes.
"We are excited to offer this new service to our students as a convenience to navigate the campus and to increase our wellness promotion," said Dr. Margarida Vieira, director of University Services.
The initiative grew out of a student sustainability committee.
"The members of the Student Government Association wanted to find a way for commuting students especially to get around campus" after they park, said Kaitlyn Dyleski, assistant director for operations in the Office of Student Involvement and Leadership.
Allowing students to "be more integrated into the community," is another bonus of the program, said Dr. Pamela Russell, interim associate provost for Academic and Faculty Affairs.
A kickoff ceremony will be held once the bikes have arrived on campus. The committee working to bring Zagster to BSU will be seeking suggestions for a name for the bike-sharing program, which will be operated through the Parking Services and Connect Card Office.
Unlike other programs in which riders must drop off bikes at designated stations for every stop, Zagster's programs gives users the freedom to ride as long as they want, wherever they want.
Bikes can be found via the free Zagster Mobile App — available for iPhone and Android — or online. Each bike has a unique number which riders enter into the app to obtain a single-use code to open the lockbox on the back of the bike. (Alternatively, riders can obtain unlock codes via text message.) A key, stored inside and tethered to the lockbox, allows the bike to be locked and unlocked throughout a ride. After the rider returns the bike to a designated Zagster bike station, the rental ends and the bike is available for the next person to enjoy.
The program willfeature the Zagster 8, an award-winning bike known for its practical design, comfortable ride and easy handling. The bike includes a spacious basket that's perfect for carrying groceries, takeout, or personal belongings. And because rider safety is a priority, every bike includes automatic lights, a bell and full reflectors. (Story by John Winters, G '11, University News & Media)