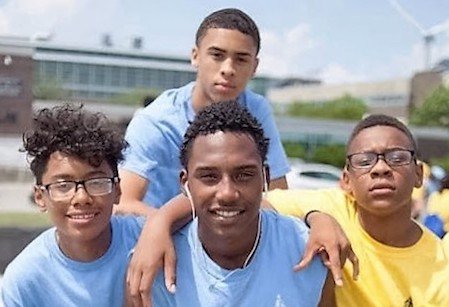 Story Series
News Feature
The groundbreaking Bridge Partnership program will be getting a facelift, with the help of a $10,000 grant from HarborOne Bank.
Since 2012, the program has invited select eighth graders from New Bedford and Brockton for a two-week summer session on campus to provide them with academic enrichment, as well as ongoing educational case management services. For while Massachusetts is ranked as a top leader in education, there are still many students struggling in the commonwealth, said Dr. Kelly Brotzman, executive director of the Martin Richard Institute for Social Justice, which administers the program.
"We look for students who are not succeeding in school, but could," she said. 
The Bridge program hosts two two-week sessions each July, and afterward follows up with program participants.
Still, it appears more needs to be done. Which is why Dr. Brotzman and her staff have taken action, and where the HarborOne grant comes in.
Follow ups with the students show that the education and experiences gained during the two weeks on campus aren't enough to make long-term change.
"It's not enough to turn the educational tables," Dr. Brotzman said.
The program has been amended to include formal visits throughout the academic school year by Bridge staff members Jillian Lucchetti and Diana Mendes.
Some of the Bridge participants come from families where English is the second language, making it difficult for parents to understand school culture and expectations. Others may need help studying for their SAT's or assistance understanding the college application process.  
Many students have been led to believe they aren't smart enough or capable of finding success. 
"Parents and students don't always know where to go for help. Our role is to help them," Ms. Lucchetti said.
Their efforts have proven to be successful, with some students continuing their education right here at Bridgewater State. Currently there are eight former Bridge participants enrolled, with five incoming freshmen expected to join the BSU community this fall. 
To build on this success, the Bridge Partnership is also expanding its summer programming. 
A community-service-oriented opportunity was launched for participating ninth graders this past summer, and next year a job-shadowing experience will be added for the 10th graders. 
"It's all about the kids and we believe they can succeed. With the right support they will," Dr. Brotzman said. "All they need is someone who projects to them a positive image of themselves and tells them they can do things, they do have strengths and can do it."