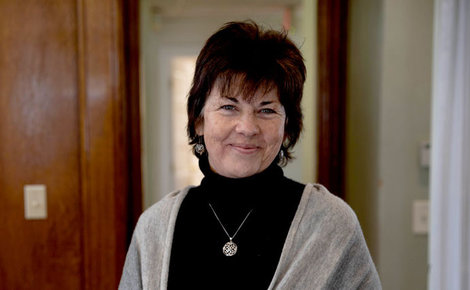 Story Series
News Feature
Despite the new buildings and faces, there is a certain familiarity, a sense of belonging, that takes over when Ellen Cuttle Oliver, '82, G'89, steps onto the Bridgewater State University campus.
It's that feeling of connectedness that Oliver wants to create for the school's 70,000 alumni in her new role as executive director of alumni relations.
"Whether you're a graduate from 50 years ago or five years ago, or even a student of today, it's the connections we remember," she said.
Oliver carries fond memories of her time as a student at what was then Bridgewater State College.
"Bridgewater changed my life. The friends and roommates I had then are my closest friends today," she said. "Those relationships are important. The interactions with faculty is important. It's those connections you make while transforming from a kid to an adult that matter."
Oliver wants to tap into those shared experiences and find ways to re-engage students and alumni.
"The Bridgewater of yesterday is different than it is today, the physicality of it. It's putting the 'bridge' back in Bridgewater, that's where we start," she said. "What's going to connect people, bring them back and fill them up? Alumni need to know that what was still is, but it's more than we could even have hoped for today."
Oliver is planning to bring back and formalize the Crimson Ambassadors, a student group whose members interact with alumni at events and with whom they can connect and share current BSU experiences.
Building those relationships is important for both students and alumni.
"All of our current students are alumni in training, they are the alumni of tomorrow," Oliver said.
She encourages alumni to reach out and visit her in the recently renamed John W. Jones and Martha Drinkwater Jones Alumni House, located at 26 Summer St.
"I want people to walk into the house and see part of themselves on the wall. From Horace Mann and on, I want people to know the story, from college to university, and to share who the leaders and educators were yesterday and who the leaders and educators of today are," Oliver said. "My job is to bring people home and let them know they will always have a place here." (Story by Heather Harris Michonski, Photo by Carl Hollant, University News and Video)
Do you have a BSU story you'd like to share? Email stories@bridgew.edu