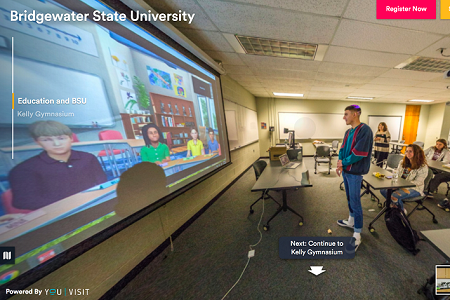 Story Series
News Feature
Prospective students and their families can now get a real feel for the Bridgewater State University campus by visiting a new, 360-degree immersive virtual tour created in partnership with YouVisit.
In addition to exploring the BSU campus at their convenience via the university's website, the tour is available on mobile and Facebook platforms. The experience allows visitors to take further action to apply or inquire about BSU.
The BSU experience, led by a virtual tour guide with full captioning in Spanish, features five "living scenes" with students, alumni and a welcome message from President Frederick Clark Jr., '83. The walking tour's 18 stops contain numerous 360-degree images with hotspots that lead to videos, photos and other points of interest on the stops.
In all, nearly 200 pieces of information about the BSU experience are contained in the immersive tour, which can be enhanced with the use of virtual reality goggles.
"Bridgewater State University has a beautiful campus," said Abi Mandelbaum, YouVisit CEO. "We expect the new immersive experience to cultivate widespread interest as even more prospective students around the country, and the world, are given unlimited access to the school's offerings."
Visitors can access the tour at https://www.bridgew.edu/campus-tour which is located on the homepage on the Visit link, on the landing page of Admissions & Aid, and the footer of every page on www.bridgew.edu.
"I'm thrilled to share this exceptional glimpse into our academic programs and our campus with prospective students in the region and beyond," said Gregg Meyer, dean of undergraduate admission.
YouVisit is the leader in creating virtual experiences that connect colleges and universities with prospective students across all of the most popular platforms, including edu sites, mobile devices, virtual reality, Facebook and more. (Story by Eva T. Gaffney, G '01, for University News & Video)
Do you have a BSU story you'd like to share? Email stories@bridgew.edu.