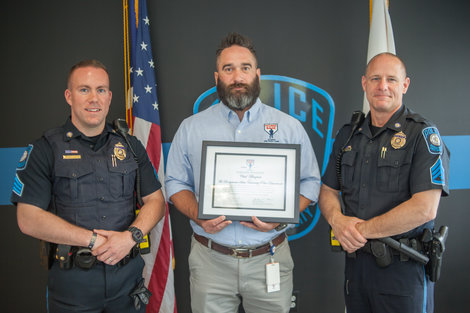 Story Series
News Feature
Police letting you go with a warning is good. Police letting it grow for charity is even better.
Last November while protecting and serving the campus, the Bridgewater State University Police Department took part in "No Shave November," by growing facial hair to benefit a veteran-focused nonprofit. Recently, Ryan Casavant, veteran outreach coordinator for Home Base, visited campus to present the department a plaque for making the cut, so to speak.
The police department was one of 20 whose officers donated at least $100 for the ability to bypass traditional clean-shaven rules in an effort to help Home Base, which is a Red Sox Foundation and Massachusetts General Hospital Program. Home Base assists veterans and their families heal from the invisible wounds of war, such as TBI, PTSD, and related conditions, according to Assistant Chief Matthew Rushton.
In total, about 500 officers from various agencies participated in this year's campaign. In 2016, the fundraiser brought in $50,000. For more information about Home Base or to make a donation, visit http://www.homebase.org. (Story by Charlie Peters, University News & Media; photo by Ezechiaste Pompilus, '19)