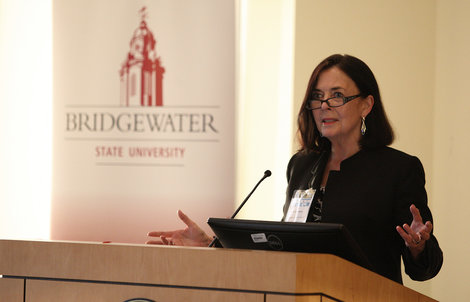 Story Series
News Feature
Isaac Mwepa appeared to be a happy man, as he introduced himself to the dozens of people crowded into the Dunn Conference Center for Tuesday night's Mandela Washington Fellowship welcome dinner.
"I am very excited to be here," the Malawi resident said. Back home he is the chairman of the Chitipa District Council, but here he is one of 25 fellows who will spend the next six weeks taking part of BSU's MWF Institute. "Everyone has been so friendly," he said.
This is the second year BSU has been selected to partner with the Mandela Fellowship for Young African Leaders. More than 64,000 African residents applied to be part of this year's program, but only 1,000 were selected to come to the United States.
"I'm convinced we got the best 25," said Dr. Wendy Haynes, director of the MWF Institute, and interim dean of the College of Graduate Studies. "This is an absolutely awesome group with great stories to share."
President Frederick W. Clark Jr. told the fellows how excited the extended Bridgewater community was to welcome them to campus, and that he hoped their participation in the institute paid dividends once they returned to their homelands.
"I encourage you to do your best to change the world, starting with your local community," he said. 
The president reminded the fellows of something Horace Mann said, "Education is the great equalizer." 
"Education does matter, both here and in your home country," the president said.
Special remarks were provided by Uganda's Cyrus Kawalya, a 2014 Mandela fellow who attended the six-week program at the University of California, Berkeley. After becoming successful in his home country in the music and entertainment industries, he made a decision.
"I realized it's not about making the money we make but it's about how we transform our communities," he said. This spurred his interest in his community, leading to his applying to take part in the Mandela Fellowship program. 
Mr. Kawalya fondly recalled his time as a fellow, and urged the members of BSU's cohort to make the most of their time here, before returning to Africa to bring about positive change.
"This is our moment, we have to take it up and make a difference and make a sacrifice," he said. "There is no way out of it. Future generations will want to know what we did for Africa." (Story by John Winters, G '11, University News & Media)