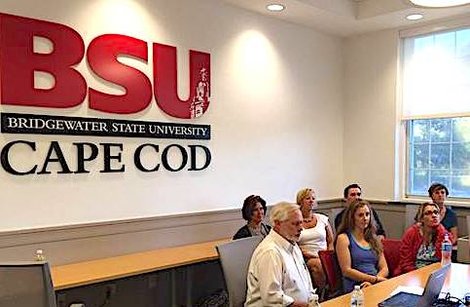 Story Series
News Feature
 The Cape Cod campus celebrated its first graduate since opening three years ago, when Monique Robinson, '18, completed her bachelor's degree in strategic communications with a 4.0 grade point average.
Ms. Robinson came to BSU with an associate's degree, and then took all her classes at Cape Cod or online, save for a few electives from Cape Cod Community College.
"I'm excited to be graduating," Ms. Robinson said. "The fact that I'm the first person to graduate just makes it feel even better."
Despite the challenges of a full-time job and struggles with dyslexia, Ms. Robinson not only completed her bachelor's degree, but already has her sights on a master's program.
Ms. Robinson typifies the post-traditional students that BSU serves at its South Yarmouth campus, according to Jennifer H. Reid, director of BSU Cape Cod.
"Many of them are part-time students who don't follow a traditional career pathway" because of such circumstances as working full-time, or caring for children or elderly parents, she said.
Ms. Robinson has worked as an electroencephalogram (EEG) technician for 17 years, the last seven at Cape Cod Hospital. She earned previous credits taking night classes at five other colleges and universities, including Newbury College, from which she received an associate's degree.
 In 2014, Ms. Robinson was enrolled in a University of Massachusetts-Dartmouth psychology program at Cape Cod Community College when the program closed, leaving her no other local options to complete her bachelor's degree.  
"When I found out BSU would be opening its Cape Cod campus, I immediately checked it out," said Ms. Robinson, who is glad she decided to enroll.  
"I absolutely loved the classrooms, they were very small and personal. And the professors were excellent," said Ms. Robinson, whose BSU experience also included study abroad trips to Italy and Nicaragua.
Ms. Robinson especially appreciates the help she received from Ms. Reid, her professors Bjorn Ingvoldstad and Yongjun Shin, and her writing tutors, Lindsey Ann Bedrosian, '17, and Lauren Gonsalves, '18.
"Monique committed to continuing her education and achieving her goal of earning her bachelor's degree while also working full time, and has done so with extreme determination," Ms. Reid said. "Monique is tenacious, hard-working, curious, and a diligent student."
Ms. Robinson, who aspires to work in the field of disaster relief, takes her next educational step this fall when she enrolls in a master's program in emergency management offered by Massachusetts Maritime Academy. (Story by John Laidler for University News)