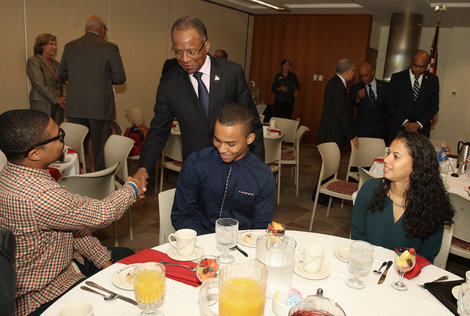 Story Series
News Feature
Cape Verdean Prime Minister Ulisses Correia e Silva returned to campus Wednesday morning and outlined his administration's plans for the island nation. It includes a continued focus on education and strengthening Cape Verde's connection to Bridgewater State University.
"More important than politics is friendship," the prime minister said.
Elected in March 2016, the former mayor of Praia has a reputation for implementing change.
"He is a doer, a man of action," President Frederick W. Clark Jr. said in his introduction. 
This was backed up by President Emeritus Dana Mohler-Faria: "I believe you are going to transform Cape Verde to new and wonderful heights."
The former president is of Cape Verdean descent, and Southeastern Massachusetts is home to the nation's largest diaspora population. BSU's relationship with Cape Verde dates to 2002, and over the years, the institution has helped establish the nation's first public university and aided in the obtaining of two large international grants.
"We want to recommit ourselves to the work going forward in Cabo Verde going forward," President Clark said. "The question is what more can we do?"
President Clark added that he recently learned that his wife's late grandmother was from the Cape Verdean island of Brava.
"So, my wife and children are part Cape Verdean. I'm the odd man out," the president joked.
Prime Minister Silva said when he thinks about educating Cape Verdeans of today and tomorrow, that one must think globally.
"The most important asset in (our) region is education, to reinforce human capital," he said. "We want to have for the next 15 years a different curriculum for our young people. To be fluent in languages, you must connect to the world with English, French and Portuguese. We must start now." 
He added that his administration would work diligently to accelerate progress on this front so that this generation might benefit from the efforts. The prime minister made it clear he is not interested in simply managing the current circumstances; the focus is on improvement.
Prime Minster Silva also alluded to some of the key strengths of Cape Verde from an investment perspective, including political and social stability, security, as well as a long history of connecting to the world, especially the United States.
In short, he said, "We need good partners and good alliances."
Also in attendance at the event were three students with ties to Cape Verde: Yuri Santos, Manuel Pina and Fatima Teixeira. The trio enjoyed meeting the prime minister.
"It was an amazing experience, having the chance meet and talk to him made me feel more confident about the future of my country," Manuel said. As for Yuri, "It was certainly the highlight and peak of my week."
 As for Fatima, she said she'd been impressed by her nation's leader for some time.
"I felt so honored and privileged to have had the opportunity to meet the prime minister of my homeland," she said. "I was rooting for him when he was running and now that he is the prime minister, I cannot wait to witness all the astonishing changes he will make for my country in terms of education and the economy."
The prime minister was accompanied by several other officials from Cape Verde. Also offering words of welcome was state Sen. Marc Pacheco. 
The event was sponsored by BSU's Pedro Pires Institute for Cape Verdean Studies. (Story by John Winters, G '11, University News & Media, photos by George Rizer)