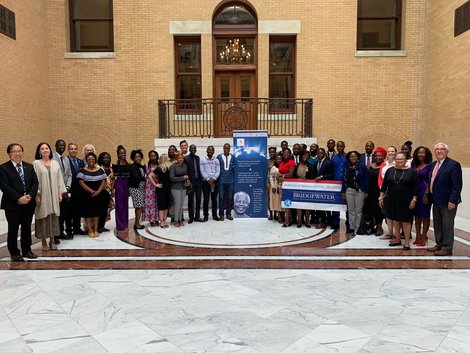 Mandela's story taught me courage, perseverance and forgiveness. Thanks to him, I am always striving to be a better person.
Story Series
News Feature
The Mandela Washington fellows spending part of the summer on campus traveled to Boston on Thursday to take part in the city's annual celebration of Nelson Mandela International Day. The event is celebrated each year on July 18, Mandela's birthday, and commemorates the former South African president's commitment to social justice and his lifetime of service to others.
The celebration took place at the Massachusetts Statehouse, where the fellows from Bridgewater State University shared with legislatures, business leaders and others what it means to participate in the event and the impact Mandela has had on them.
Godfrey Sivolo is a legal officer for public prosecutions in his native Namibia where he strives to defend women and children who are victims of violent crimes. Mandela's message of peace has always resonated with him.
"I get inspired by Nelson Mandela because he was hurt, beaten down, and even taken to prison, and the very first thing he said when he got out of prison was, 'May peace be with you,' and that is why he is an inspiration," Sivolo said.
Kenya's Costa Oguta is implementing an HIV-awareness project in his home country that ensures people with disabilities are included and educated. He said Mandela's example of dedication, courage and sacrifice are what stand out to him.
"This is what we are called to do as young leaders, without giving up as Mandela did not give up until he achieved his goal," he said.
Growing up in Senegal, Ibrahima Diba said it was Mandela's story, how he struggled against racial oppression, that helped define the kind of person he wanted to be.
"Mandela's story taught me courage, perseverance and forgiveness. Thanks to him, I am always striving to be a better person," he said.
Today Diba works as the regional head of sports in Matam, Senegal, where he creates, implements and evaluates public policies focused on youth and education. He also volunteers at a local nonprofit organization that specializes in community development.
"Mandela taught me that to be able to live a peaceful life, I would have to be useful to my community," he said.
This summer marks the fourth consecutive year that Bridgewater has hosted a cohort from the Mandela Washington Fellowship for Young African Leaders. BSU is hosting 24 fellows for a six-week academic and leadership institute.
"To be part of Mandela Washington Fellowship means a lot to me because through this I have been given opportunities to network with folks from different background and experiences. This enables me to learn share and implement good ideas back in my country," Oguta said.
Do you have a BSU story you'd like to share? Email stories@bridgew.edu