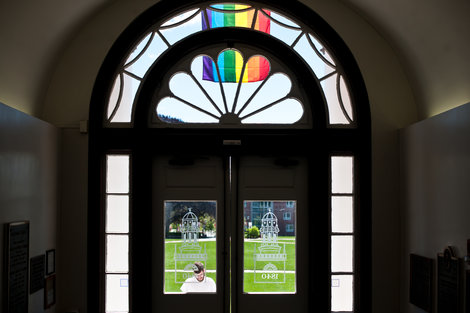 Story Series
News Feature
June is National Pride Month, and Bridgewater State University is celebrating diversity and inclusion by striving to live up to the motto of the campus' Pride Center, "Here for you no matter how you identify."
The university was ranked 36th in the nation by CollegeChoice in supporting LGBTA student success. Many factors led to BSU's excellent reputation in this area.
In 2006, Bridgewater State College opened the GLBTA Pride Center. It was the first public institution of higher education in Massachusetts to do so.
Since then, director of the Pride Center Lee Forest has collaborated with students, faculty and administrators across campus who are dedicated to LGBTQ equity and inclusion.
"I can say with the utmost confidence that we at BSU bring a heartfelt and informed commitment to LGBTQ student success," Forest said.
BSU's commitment to the LGBTQ community includes:
73 gender-inclusive single-occupancy restrooms across campus
Health insurance covering all transgender-related surgeries and hormone replacement therapies
Student-athletes participating according to their gender identity
Campus housing assignments based on gender identity
An inclusive study abroad program
LGBTQ students enjoy the same or better retention rates as their non-LGBTQ peers
The LGBTQ-focused Lavender Living Learning Community
Campus police respect all student identities
Professors hold weekly office hours in the Pride Center
Students and employees may use a preferred name wherever legal name is not required
As an undergraduate, Lindsy Osgood, '17, G'19, experienced anxiety while discovering her identity. Because of the support available on campus, particularly the Pride Center, Osgood was able to get the support she needed.
"The Pride Center significantly impacted my time at BSU, making me a better and more well-rounded person… It is a huge asset to BSU," she said. "I feel my overall success at Bridgewater was a combination of hard work and the love and support from the Pride Center."
 Do you have a BSU story you'd like to share? email stories@bridgew.edu