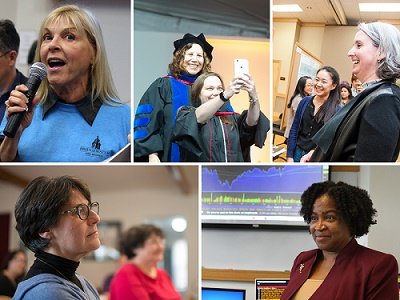 It is encouraging to see women start to change the face of higher education leadership.
Story Series
News Feature
[Editor's note: This is the last of four stories marking Women's History Month.]
When people imagine a dean, provost or president, for many a man is often the picture that comes to mind.
That stereotype doesn't apply to Bridgewater State University where there are many strong female leaders.
"It is encouraging to see women start to change the face of higher education leadership," said one of them – Dr. Lisa Krissoff Boehm, who leads the College of Graduate Studies.
Aside from Boehm, the other women in this group prestigious leaders include, Dr. Jeanean Davis-Street, interim dean of the Ricciardi College of Business; Dr. Kristen Porter-Utley, dean of the Bartlett College of Science and Mathematics; Dr. Lisa Battaglino, dean of the College of Education and Allied Studies and Dr. Arnaa Alcon, dean of the College of Humanities and Social Sciences.
"The primary reason it is encouraging to see female candidates emerging into leadership roles is because they are role models for the many young women we serve on campus. It is important for our female students to know that they, too, can become effective leaders in their careers," said Porter-Utley.
The five women recently shared what it takes to be a good leader, what they like best about their careers, what it takes to be a dean, and how empowering it is to see women emerging in roles once dominated by men.
Can you summarize what it means to be a dean?
Battaglino: "Being a dean is somewhat analogous to conducting an orchestra. The dean has a vision and understands the vision of the university… A dean's primary role is to advocate for students, faculty and other administrators in order to promote student success. The bottom line is always, what is in the best interest of the students. That question guides most of the dean's work."
Why did you follow the career path to higher education?
Boehm: "I wanted to be a professor and then a dean since about 15-years-old. I was always enamored with higher education. Since my earliest days, I was either reading or working with the neighborhood kids to mount plays or musicals. I wanted a career that merged academic pursuits and leadership."
What do you think it means to be a good leader?
Alcon: "The leaders I most admire know how to listen carefully and they show respect to everyone in all instances, not just to those with status or privilege and not just in public. They give credit to others for good outcomes and accomplishments and take responsibility for failures. Good leaders are willing to take risks, support new ideas and say no when they believe that is the right response."
What do you like about working in a leadership role, specific to Bridgewater State?
Davis-Street: "Leadership at BSU is indicative of the university's commitment to empowering stakeholders to have a direct voice on the challenges that face BSU. From my very first semester I was encouraged to provide input on student, faculty and administrative challenges. The insight that I provided was a reflection of my perspective and experiences. Whenever I shared my ideas they were always respected and appreciated. I see that same attitude of inclusive governance in the current leadership of BSU."
What do you like best about being dean?
Porter-Utley: "I truly enjoy serving students, faculty and staff, helping them find and get the tools they need to be successful and then watching them succeed."
What advice do you have for someone who wants to follow a similar career path as you?
Battaglino: "Be open to professional opportunities. If you are offered a position, take it. If you are invited to present at a conference, go. Do not be afraid to fail. Do your very best at every single task you are offered and you will develop a reputation of perseverance, strength, and dependability. Those skills will serve you well and allow others to trust you."
Boehm: "Be careful about the doctorates in humanities and social sciences as teaching positions are rare today."
Alcon: "Take every opportunity to talk with people who are doing the work that you think you want to do and learn about their path. Say yes to opportunities and challenges, even when you are not sure where they will lead. As early as you can identify the necessary qualifications and experiences you will need to reach your goal and create a plan to acquire those. Find mentors and colleagues you can trust and allow them to advise, guide and correct you."
Davis-Street: "Have a true passion for your area of study. Spend some time working in your field outside of academia so that you can bring real-world experiences into the classroom. Earn a terminal degree in your chosen field. Conduct regular research in your field of study. Serve as a chairperson to gain administrative experience. Advance to a position of associate dean or dean."
Porter-Utley: "In everything you do, be curious. Frequently find time to re-center yourself to make sure you are working toward your core career goals. Deeply investigate options and possibilities and do thorough research and try to surround yourself by people who positively motivate you, think differently than you, and will challenge you." 
Do you have a BSU story you'd like to share? Email stories@bridgew.edu