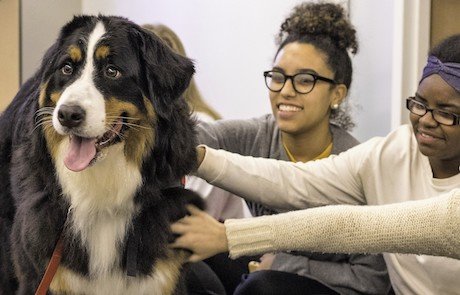 Story Series
News Feature
An uptick in campus coffee consumption most likely means its finals week at Bridgewater State University. After all, studying for exams can wreak havoc on students, mentally and otherwise, due to late-night study sessions, a lack of sleep, and an abundance of poor dietary choices.
"This can cause anxiety, depression or even panic attacks and increase the risk of illness from the common cold to stomach ulcers," said Ann Doyle, outreach education coordinator. "It can become difficult to focus, recall information and make decisions. As a student, it's important to be able to do all of those things, particularly going into exams."
While some stress can be energizing and even provide the extra push needed to complete a project, too much stress can leave students feeling run down. 
"Physical and emotional health can be impacted by stress," Doyle said. "When our bodies are stressed, the fight-or-flight response kicks in. This is a good thing when we are in danger, but can produce a nervous system overload leaving us exposed to stress hormones."
To help BSU students find their balance the Outreach Education and BSU Peer Educators are co-hosting a Stress-Free Zone.
From Dec. 3-7, the campaign will offer a variety of events for students to de-stress as they prepare to tackle final exams. 
Scheduled events include creating a calming tea blend, visits with therapy dogs, a tutorial on the benefits of essential oils, coloring for calm, bracelet and keychain making, a boot camp workout, cupcake decorating, stretching session, and a make your own greeting card session. 
A "Feel Good Fest" will close out the week on Friday, Dec. 7, from 7 to 9 p.m. in the RCC Ballroom, where three golden
retriever therapy dogs will be present. Also featured will be multiple stress-reducing stations and activities.
"Some people thrive on stress, for others it's debilitating, "Doyle said. "We try to help students learn how to manage their stress so it isn't overwhelming."
Because stress can happen at any time, Doyle wants students to know that Outreach Education offers workshops, activities and tips throughout the year, not just during the Stress Free Zone. 
"Learning how to function in a healthy manner is how you learn to manage stress," she said.