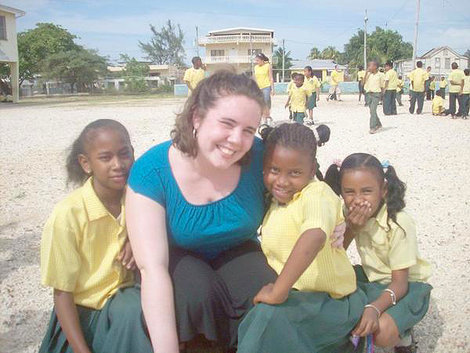 Story Series
News Feature
The American Association for Colleges of Teacher Education has selected the College of Education and Allied Studies to receive this year's Best Practice Award in Support of Global and International Perspectives.
The award recognizes exemplary practice in the intercultural, global, cross-cultural, and international arenas. 
Specifically, the college will be honored for its Global Learning Opportunities for Bridgewater Educators (GLOBE) program, which sends teacher candidates overseas to participate in faculty-led service-learning, student-teaching, and educator-exchange programs. Participants are exposed to many international sites, such as Belize, Ecuador, England, Hong Kong, and Puerto Rico. BSU student-teachers who choose international placements chronicle their experiences by contributing to their international student teaching blog, BSU Teaches.
"As a regional public comprehensive university, we see global engagement as a high-impact educational practice that serves the entire campus, but which is a particularly important and vibrant element of our College of Education and Allied Studies," said Karim Ismaili, interim provost and vice president for academic affairs at BSU, who spoke on behalf of President Frederick W. Clark Jr. and college Dean Lisa Battaglino. "Students take part in study tours, teacher-placement programs, and service projects around the world. These transformational experiences are embedded in the curriculum, ensuring sustainable and deep learning. The recognition from AACTE is a great vote of confidence for our efforts."
The award will be presented at the 69th AACTE Annual Meeting on March 2, at the Tampa Convention Center in Tampa, Fla.