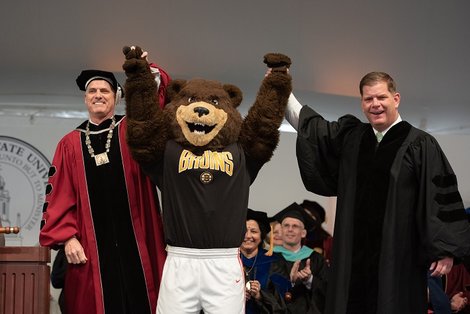 You are Bridgewater State University graduates and you will start to change the world today.
Story Series
News Feature
This story was written by Heather Harris Michonski and Brian Benson.
Bridgewater State University's commencement is a time of joy and celebration, but
Alyssa Toscano,
'19, and
Krysta Parrell
, '19, would be forgiven for shedding a few tears.
Toscano and Parrell have both lost parents and experienced particularly poignant moments Saturday courtesy of those they hold dear.
Toscano's father, Joseph, was a Watertown firefighter who died in the line of duty at a 2017 house fire.  In a true sign of the familial bond that transcends the firefighter profession, Joseph's colleagues made sure they were there to congratulate and embrace his daughter.
"We're here for you today Alyssa because Joe couldn't be here and I know how much he would be proud of you," Watertown Fire Chief Bob Quinn said.
Parrell lost her biological mother, Dawn, to cancer, but received a special message courtesy of her foster mother, Linda Close.
Close vowed to Dawn she would keep her memory alive after she passed. She gave Krysta a single rose each month carrying a message from her mother. On the one-year anniversary of Dawn's death, Close had one dozen roses waiting for Parrell with a note encouraging her to move on. Saturday, Close served as messenger once again as she clutched another dozen roses for her foster daughter.
"She has allowed me to be a part of her journey which has been amazing," Close said. "She has worked so incredibly hard. I couldn't be more proud of her and want her to have a great life."
Parrell and Toscano were among approximately 2,100 graduates to earn bachelor's degrees in ceremonies on the Boyden Quadrangle. Students from the Ricciardi College of Business, the College of Education and Allied Studies and the Bartlett College of Science and Mathematics graduated in the morning. The College of Humanities and Social Sciences held its commencement in the afternoon. See a complete list of all BSU students who earned bachelor's degrees.
About half of graduates are the first in their families to earn a college diploma, just like the commencement speaker in the afternoon ceremony, U.S. Sen. Edward Markey.
"We are all here today because we have been given opportunities that were beyond the reach of many in past generations. … If knowledge is power and with power comes responsibility, then your generation has more responsibility than any one that has ever come before it," Markey said.
Massachusetts' junior senator urged graduates to fight climate change and income inequality and help the next generation have the same opportunities.
Gay marriage, health care and suffrage revolutions started in Massachusetts, Markey said, proclaiming the class the next revolutionaries.   
"You are Bridgewater State University graduates and you will start to change the world today," he said.
Much to the audience's delight, Boston Mayor Martin J. Walsh, who spoke to morning graduates, made BSU mascot Bristaco an honorary member of the Boston Bruins as the hockey team prepares for the Stanley Cup.
Walsh admitted his college experience was initially interrupted because he had to enroll in detox because of his struggles with alcohol. Despite the setback, he didn't give up.
"If you stay focused on your dreams and continue to believe in yourself, there is nothing you can't accomplish in life, even if everything doesn't go according to plan," Walsh said adding, "Never settle for the status quo, always push for what you want in life…know that you have courage and drive to achieve anything that you set your mind to."
Student speaker Lucas Bentes, '19, a management and marketing major, echoed Walsh's sentiments that the obstacles sometimes help lead the way.
Bentes moved to the United States from Brazil when he was 6 and, throughout his schooling, struggled to make good grades. He lost five people who were important to him and, as an undergraduate, worked three jobs.
"I'm not the only person here today that's struggled to get to this point…all the adversity we have faced has built us into the people under this tent today," he said. "Some of our greatest moments in life stem from our lowest points."
BSU students are diverse but also come together to form a community. They hold open doors and take time to ask others how they are doing, said Gwendolynne Weissinger, '19, who spoke to afternoon graduates.
That sense of community must continue as graduates head into a world divided politically and facing prospects of environmental degradation and war, Weissinger said. 
"We are the future police officers, policy makers, researchers, artists, clinicians, and social workers," she said. "We all have the capacity to make the difference that our world needs and that potential only grows stronger when we …. come together."
The university awarded the Distinguished Service Award to Dr. Lisa Battaglino, '79, the retiring dean of the College of Education and Allied Studies, and Marquis Taylor, the founder and CEO of Coaching4Change.
This year's commencement served as a milestone for President Frederick W. Clark Jr., '83, as the Class of 2019 is his first class. Clark, who became president in 2015, compared the graduates to some familiar heroes, including Jon Snow from the hit show Game of Thrones and Thor from Marvel comic books.
"So maybe you don't have a magical hammer, but you do have new-found wisdom," Clark said, adding: "You are ready."
Do you have a BSU story you'd like to share? Email stories@bridgew.edu.