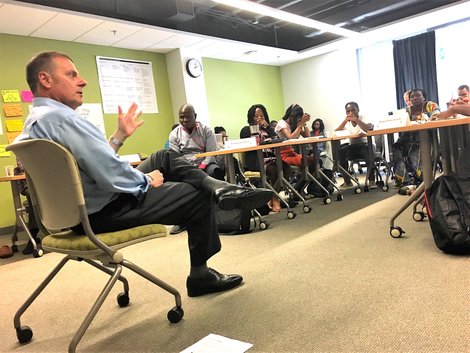 Story Series
News Feature
Nearly all organizations and companies, big and small, are at some point presented with a crisis they have to manage. 
"The thing about a crisis is you never know when one is going to hit," said Paul Jean, vice president of marketing and communications at Bridgewater State University.
Mr. Jean recently shared his expansive knowledge on crisis management with the visiting Mandela Washington fellows. Before coming to BSU three years ago, he enjoyed a long career in public relations, including as vice-president of the Boston-based agency Denterlein Worldwide. Previous clients included Boston Children's Hospital and Ikea. 
The best way to handle any crisis, Mr. Jean said, is to be prepared.
"Preparation can certainly help you. It's important that organizations have some protocols in place so they know how to manage a crisis situation," he said.
Before an incident occurs, companies should have a "crisis team" in place, with each member of that team aware of what their role is.  
"Think about who you need to communicate with and do it ahead of time," he said. 
It's also important to revisit the crisis team and management plan as the stakeholders of any organization often change. 
"Not only do you want to have a plan in place and practice it, but you also need to maintain it," Mr. Jean said. 
Because of today's social media platforms, information spreads quickly and isn't always accurate. This can result in bad news or even misinformation going viral.
Once armed with all of the facts, it is essential to get to work addressing the situation. 
"Crisis situations are never a good thing, but your response sometimes matters more than the event itself," he said. 
There are times when legal and private policies do not allow an organization to share all information. Even then, Mr. Jean said, the most important thing to do is, "be honest and speak with integrity."
"You never give out false information," he said.
Some of the fellows in attendance discussed how in many of their countries there is a lack of skilled crisis management workers. When a negative incident occurs, there is often fear that the government will shut the business down, therefore many do not respond and stay quiet. 
"I don't mean in any way to simplify it," Mr. Jean said. "It's all contextual and cultural, so some rules don't apply in every situation," Mr. Jean said. "But in my experience, it's always better to take some modicum of responsibility than saying nothing at all."
This summer marks the third consecutive year that Bridgewater has hosted a cohort from the Mandela Washington Fellowship for Young African Leaders. BSU is hosting 25 fellows for a six-week academic and leadership institute. (Photo by Heather Harris Michonski)