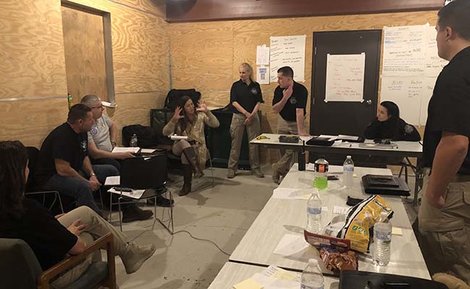 Story Series
News Feature
Imagine talking with an armed perpetrator who has taken hostages or someone threatening to commit suicide. What could you do to diffuse the situation? How do you save lives?
 
Those are questions crisis negotiators such as Bridgewater State University Assistant Chief of Police Matthew Rushton, '15, might face any time their services are needed.
 
"Instead of going in with a SWAT team, the tactic is to get the person on the phone and get them to surrender peacefully," said Rushton, who is part of a hostage negotiation team from the Southeastern Massachusetts Law Enforcement Council (SEMLEC).
 
Rushton (pictured below in the back row at far right) and teammates recently honed their skills at the 29th annual Crisis Negotiation Competition and Seminar hosted by Texas State University. They were among more than 300 officers and about 30 teams attending seminars and completing two days of mock hostage negotiation.
 
The SEMLEC team faced a complex scenario in which "radicals" took over an ICE detention facility. Experts judged teams' performances.
 
"It was a great, great learning experience for us seeing the different techniques used around the country," Rushton said. "It was also a great team building exercise."
The SEMLEC group truly functions as a team. Some members gather information while others conduct negotiations, support the negotiator, and run a situation board that keeps track of the event timeline. 
Rushton's hostage negotiation skills prove valuable, even on campus where police are more likely to encounter a student facing mental health challenges. 
"Your biggest tool is your ability to communicate," he tells BSU officers. "All we need to do is just open up a conversation. It's not about putting your hand on your gun or grabbing your Taser. Just have a conversation." 
BSU Detective Sgt.
Kaitlyn Mori
, '06, also serves on the SEMLEC team, but did not travel to Texas. 
SEMLEC, the first New England agency to attend the Texas training, is a mutual aid organization comprised of members of 31 departments, including BSU. It provides specialized services to its members. 
"The benefit is the relationships that we've been able to build with these regional departments," Rushton said, noting BSU officers' ability to work quickly with other agencies could make a difference when it comes to peacefully resolving an incident on campus. "I don't know how you put a price tag on that really." 
Do you have a BSU story you'd like to share? Email stories@bridgew.edu.