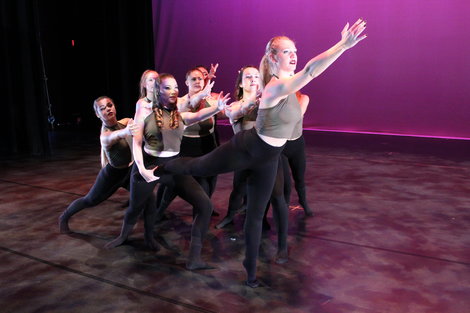 Story Series
News Feature
This year, Dance Kaleidoscope promises to be an evening that is as emotional as it is entertaining.
The production is a decades-long spring tradition that showcases original choreography staged by and featuring advanced student dancers. 
While staff and faculty offer design and logistical support, students serve as the choreographers, dancers and crew for the show, said Matthew Greene, an adjunct faculty member in the Theater Department.
"The dancers draw on personal experiences and issues that are important to them as thematic materials for the concert," he said. "It's usually a very eclectic production."
During the fall semester class, Dance Production Theory, taught by Dr. Jody Weber, students learn what goes into a dance concert on an artistic level. Come spring, students then take Dance Production Techniques with Professor Greene. Under his guidance, students produce Dance Kaleidoscope. 
This year, dancers will perform routines covering toxic relationships, love trumping hate, Alzheimer's disease, emotional baggage, childhood dreams, a mother losing a child, eating disorders, abuse and insecurities. 
As the show deals with some intense issues, Mr. Greene suggests audience members be ages 12 and older. 
"I'd encourage anyone looking for a beautiful, thought-provoking evening of entertainment to attend. They'll see the best that BSU has to offer with our upperclassmen dance majors staging some of their finest work for the BSU community to enjoy," he said. 
The show is expected to run 90 minutes. 
Dance Kaleidoscope 2018 is scheduled for Thursday, March 29 at 7:30 p.m.; Friday, March 30, at 7:30 p.m.; and Saturday, March 31 at 7:30 p.m. Performances are held in the Rondileau Campus Center Auditorium on Park Avenue.
Tickets can be purchased at the door or online at www.BSUtix.com. Tickets are $15 for the general public and $10 for students, seniors and military. A discount ($10 for general public, $8 for students, seniors and military) is applied for tickets purchased online. 
Online sales end 90 minutes prior to the start of the show. For more information visit, arts.bridgew.edu. (Story by Heather Harris Michonski, University News)