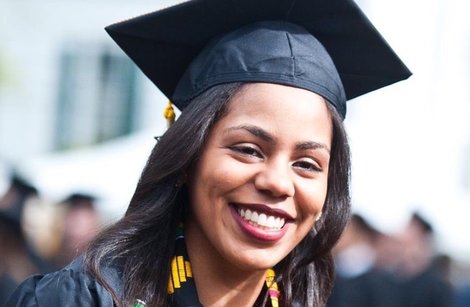 Story Series
News Feature
Danielle J. Lopez, '17, has been awarded a Fulbright Teaching Assistantship. 
She will spend the 2019 academic year in a Malaysian secondary school assisting English teachers and leading after-school science-education activities. As a Fulbright scholar, Ms. Lopez will serve as a cultural ambassador, and work to promote mutual understanding between the people of the United States and Malaysia.
"We know that Danielle will be a wonderful representative of our nation and of BSU," said Amy Couto, BSU's student scholars coordinator and Fulbright program adviser.
Ms. Lopez, who lives in New Bedford and still attends classes at BSU, graduated with a bachelor of science degree in biology, after transferring to BSU from Bristol Community College. At BCC, she tutored English language learners in writing. While at BSU, Ms. Lopez was a FAM for Change mentor at Brockton High School, an after-school STEM educator for the city of New Bedford, and a student leader of the club La Sociedad Latinx. 
BSU's Fulbright process would not be possible without faculty and staff across campus who work together to support our students. Chief among them are the campus interview committee members Dr. Jenny Shanahan and Dr. Jennie Aizenman; recommenders Dr. Kenneth Adams, Dr. Thilina Surasinghe and Dr. Genie Giaimo (of Ohio State University); and the members of the Fellowships Advisory Board: Dr. Alba Aragón, Dr. James Crowley, Dr. Diana Fox, Dr. Cindy Kane, Katie Lorge, Dr. Saritha Nellutla, Dr. Deborah Nemko, Dr. Minae Savas, Dr. Ellen Scheible, and Dr. Wing-kai To.