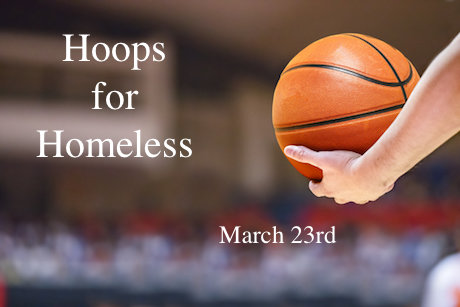 Story Series
News Feature
It's March, and for the sports-minded that means it's time for the NCAA March Madness basketball tournament. On Friday, March 23, Bridgewater is hosting its own 3x3 basketball tournament, Hoops for Homelessness.
The annual event is a fundraiser sponsored by the Friends and Mentors for Change Mentoring Program (FAM). The mission of FAM is to improve the academic achievement and social competence of young students, while at the same time helping them avoid high-risk behaviors, by providing influential relationships with caring mentors who work to help the mentees achieve their maximum potential.
This is the first year that Michael Walsh, assistant director for male initiatives, has organized the tournament, which raises money and collects donations to benefit Father Bill's & Mainspring. According to its website, the organization's mission is to end and prevent homelessness in Southern Massachusetts with programs that provide emergency and permanent housing and help people obtain skills, jobs and necessary services.
Aside from having fun during the Hoops for Homelessness tournament, Mr. Walsh said it's important to remember the people whom the event supports.
"Don't forget with a little effort, patience and time, we can make a difference," he said.
Registration and donations are collected the day of the tournament, Friday, March 23, from 6-9 p.m. The cost is $5 per person. Donations needed include items such as: toiletries and bath items, clothing, linens, kitchen and household supplies, baby products and gift cards.
According to the tournament's rules, the first team to score 11 points wins. It is a two-game-elimination tournament, Mr. Walsh said. Teams can be co-ed. Student referees will officiate games with prizes distributed and light refreshments and snacks available.
"We hope to get some great donations and have a really good time, all the while remembering the folks who we are helping," Mr. Walsh said. 
For more information about the Hoops for Homelessness tournament email Mr. Walsh at M6WALSH@bridgew.edu. (Story by Heather Harris Michonski, University News)